How to pick up at the gym
Multitasking is a valuable life skill and where better to hone your prowess in this craft than at your local gym. Whether you live a time-poor life or have simply always fantasised, as many of us have, about having sex with that hot weightlifter on the gym floor, the gym is the perfect place to combine the endorphin rush of exercise with that of picking up a hottie.
The art of cruising at the gym is one best practiced with a healthy equilibrium between enthusiasm and restraint. Subtle to those not interested, but salient to those who are also on the hunt for some pumped up d, here are 10 ways, from arrival to departure, to signal at the gym that you're thirsty for a meet.
Even if you go to the gym first thing in the morning, be sure to run a comb through your hair, brush your teeth and spray on some deo. This will indicate far better that you want to be noticed than looking and smelling like you've just rolled out of bed. If you do think in all likelihood you will pick a guy up and head back to his place, have your essentials covered, whether that be having condoms, lube, or having taken your PrEP or HIV meds that day.
2. Get naked as many times as possible
The longer you spend butt naked in the change room and the showers, the greater the chance of a potential suitor being able to check you out stripped bare. Which in turn, acts like the physical manifestation of sending cock and ass pics on Grindr – many want to see the goods before they buy.
And here's how to maximise your time au naturel without looking like an unsolicited creep: always wear regular clothes to the gym, even if coming directly from home, that way you can strip and put on your gym gear at a leisurely pace; once finished your workout, strip out of your gym gear and head to the showers or steam room with your towel around your neck; and once finished, return to the change room still slightly damp so that you can rigorously dry yourself in full view, with particular attention being placed on drying your cock and ass. In all, three significant moments in your pre and post workout routine to put your junk and rump on full display.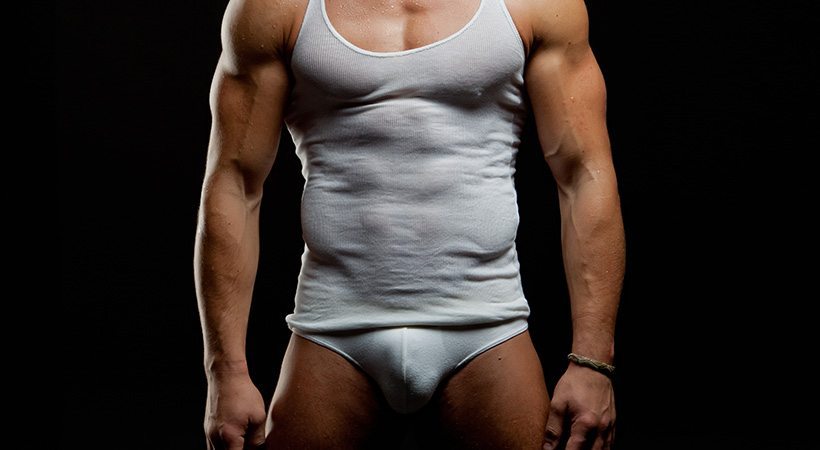 If you're keen for some extra-curricular activity after the gym, you're more likely to get some if you're dressed to impress. Active wear and gym gear is often some of the most fetishist clothing on the market, so discard your old crew-necks and baggy shorts, and opt for tight and revealing skins and mesh tank tops. Or, if you're wearing a pair of hot basketball shorts or some form fitting AFL shorts, consider going commando and allow your member to bulge at its best.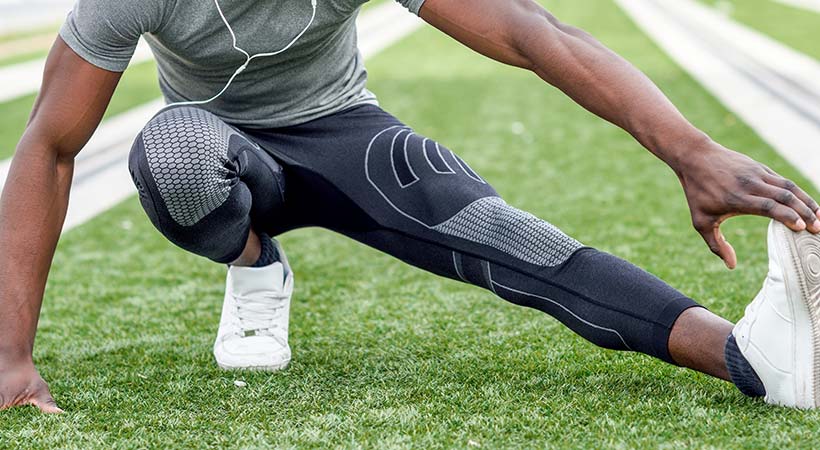 While the mighty jockstrap's initial purpose, when invented in 1874, was to provide athletic support to bicycle riders and other sportsmen, over the decades, this primary use has declined and today, jockstraps are more commonly synonymous with gay fetish. Opt for a form-fitting design which frames your bulge and assets well, and enjoy the looks you get as it peeks out from the top of your shorts as you squat, or when the butt straps are bared in a leg press.
Wearing a suggestive t-shirt or tank top will clearly indicate your sexual preference and will be a great conversation starter for any fellow gym attendee who wants to hit on you. "I'd bottom you so hard" and the like will do the trick.
It stands to reason that if someone finds you hot and wants to come onto you, this interaction is going to be significantly less likely if you have headphones in your ears and seemingly don't want to be disturbed. Keep digital distractions to a minimum; headphones are a definite no-no.
7. Do exercises that mimic your sexual positions
What better way to demonstrate what your body's range of motion is capable of than performing exercises that mimic what you want to do, and can do, in the boudoir. If you're a bendy power bottom, barbell squats will illustrate your energised bounce technique to a tee. Or if you're more of a jackhammer top, bodyweight push ups will entice a potential hook up and show your rigorous thrusting ability. Be sure to also focus on exercises that show off and improve your finest assets. So if you're more the passive type, find out how to become a better power bottom at the gym .
If you're not sure if the hottie in your BodyPump class is looking to get his body pumped, log onto your trusted gay networking apps to see if he's online.
9. Spot a hottie or ask if you can work in with him
A great way to gauge whether someone you like is interested is to ask them to spot you. If they're willing to take some time out of their work out to assist you in this way, then maybe they'll also be willing to take some time out of their day to assist you in another way . And now that the ice is broken, starting up a conversation will be an easy feat. Or, if it's peak hour at the gym and the guy you've got your eye on is resting between sets, asking to take turns on the apparatus in question is also common practice and a sure fire way to casually spark a conversation.
Once your workout is complete, it's time to get busy in the gym's aquatic facilities. If your gym has a non-shared steam room facility, this is a notoriously popular place frequented by men on the hunt for some d. Remove your towel, spread your legs and relax and see if anyone's admiring your goods with appreciation. The showers are also a great place to cruise and be cruised. Always be sure to leave your cubicle doors open and by no means should you ever be averse to dropping the soap.