10 quirky homewares to add a je ne sais quoi to your abode
After some inspiration to decorate a new apartment, or even just to tszuj the house up a little? We've assembled a collection of gorgeous little objects to give you a few ideas how to. Add some quirk to your living room, or have something funky on your desk. Either way, you'll be glad for a break from the ordinary.
Being a guy who likes guys does come with a few perks, but contrary to a homophobic clichéd stereotype, instantaneous expertise in interior design isn't necessarily a talent we're all blessed with. Whether you've just moved to a new apartment or simply feel like giving the house a bit of a tszuj, we've gathered a collection of quirky little style touches to show off to your mates, your boyfriend, or maybe that handsome hook-up that's due over later…
For the living room
Cushions
Make a bold statement with any one of these funky design throw pillows (apparently that's American for cushions) available from Society6. Thousands of independent artists from around the planet create designs which are turned into a variety of adorable objects, including art prints, clocks, mugs, blankets, rugs, bath mats, cards, phone cases, laptop skins, clothing and more. Shipping from the USA is available to Australia and there are designs to suit almost every taste. Plus they're a great place to stash a few condoms underneath for a surprise living room romp.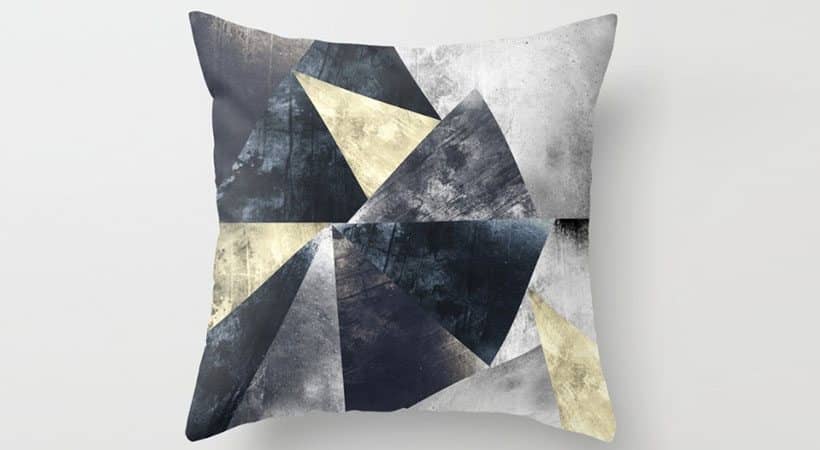 Clock
Walking in to a Matt Blatt store is a bit like walking in to a warehouse run by a seriously stylish yet eccentric hoarder. It's an unashamed visual assault of vibrant and unusual pieces for sale. Renowned for furniture, Matt Blatt also offers an impressive line-up of decorative items. One of the most eye catching ones is this replica George Nelson ball clock. Although this one doesn't feature a daily alarm to remind anyone to take their PrEP or HIV medication to maintain an undetectable viral load (UVL), but your mobile phone can always make up for that.
Table lamp
Space has established itself as a leader in Australian design retail for over two decades. Catering for the more affluent among us, it showcases décor from Italy, Denmark and many other high-end international designers. Kartell's Cindy light in its chrome finish is so shiny it could almost be liquid mercury. Just watch out for finger marks, especially if you've got lube on yours!
For the home office
Mossarium
Proudly designed by Botanica Boutique in South Australia, Sanctuary is a miniature mossarium; a garden for moss. Sustaining a controlled environment means this is a perfect way to add some low maintenance greenery to your office at home, or even at work. Simply spray with water using the included mister every few days or when your moss is looking dry. Options for the base include plastic, concrete or marble.
CZFerro-Squared
Referred to as "the best desk display since Newton's cradle" Concept Zero's CZFerro-Squared is as hypnotically beautiful as it is bizarre. The jar contains a liquid magnetic substance called ferrofluid. A powerful neodymium magnet is used to attract the ferrofluid creating a visually appealing demonstration of physics masquerading as art. Available in two sizes, we recommend you go large and enjoy a play.
For the dining room or kitchen
Terrarium
Atop a natural wood base casually rests a hand-blown glass bubble. Uniquely crafted to sit perfectly on each stand, no two pieces are identical. What's more they offer a supremely quirky terrarium that can be filled with stones, plants, or even turned into a fish bowl – just be sure to invest in a large one if you're going to put a living creature in it. And you didn't hear it from us, but you can get just as good ones in Bali for under 30 bucks!
Coasters
These modern coasters from Country Road prove that less really is more when it comes to style. Simple and elegant, they'll surely save your dining table from the perils of red wine stain rings.
Nesting bowls
Founded by twin brothers from the UK, Joseph Joseph firmly believes that innovation needs to be at the heart of everything they do. Seamlessly combining function with aesthetic, this brand produces thoroughly useful, clever and bright homewares. Kogan stocks this set of nine stacking and storage saving kitchen essentials, including mixing bowls, colander, sieve and measuring cups. Perfect for mixing up J-Lube for the more stylish and adventurous among us!
For the garden
Bird Table
Eva Solo is a family-owned Danish design company spanning over 100 years and four generations. Its products are highly considered, often curvaceous and flawlessly crafted. This bird table is suitable for outdoor use all year round, though you might want to make sure it's well out of reach of any crafty neighbourhood possums.
Garden Flamingos
No collection of quirky homewares would be complete without a camp pink flamingo ring toss game! Sydney based brand Sunny Life has a whole heap of summer lifestyle accessories to instantly add a touch of flair to your indoor and outdoor living arrangements. You're bound to be bold with this on your lawn.