Courtney Act: The Girl from Oz – Coming soon to Adelaide Cabaret Festival
Lions, and tigers, and bears! Oh, my! Guess who's back down under from somewhere over the rainbow with a brand new show? That's right! Our very own home grown starlet Courtney Act is dropping in with three performances at the Adelaide Cabaret Festival.
Courtney Act – international drag superstar and one of Australia's most precious sweethearts is clicking her heels together three times to make her way back home! Her new show titled The Girl from Oz is definitely not in Kansas anymore. In fact, she's been busily touring New Zealand, the UK, the US and Canada. And later this month she's donning her finest ruby slippers to entertain all of us in Oz as part of the annual Adelaide Cabaret Festival with shows running from June 16 to 18.
The Girl From Oz – Courtney Act
There's no place like home
She's certainly come a long way since Shane Jenek (the man behind the makeup) graced our TV screens on season one of Australian Idol. Being turned down as Shane during auditions only to return the following day as Courtney was a bold move that succeeded in buying her a spot in the competition. A warm note from the judges in 2003 serves as a memory of just how far she's travelled down the yellow brick road: "You've added another dimension and you've blown us away".
Courtney Act Revealed
Despite going out in the semi-finals, Courtney firmly made her mark in the history books as a worthy performer and an influential LGBTI Australian. So much so she earned a well deserved place in the inaugural Rainbow List compiled in the special pride edition of Cosmopolitan magazine earlier this year. Appearing alongside other allies, the 2017 Rainbow List celebrates the top 50 role models and those who have worked tirelessly for LGBTI people to be treated equally.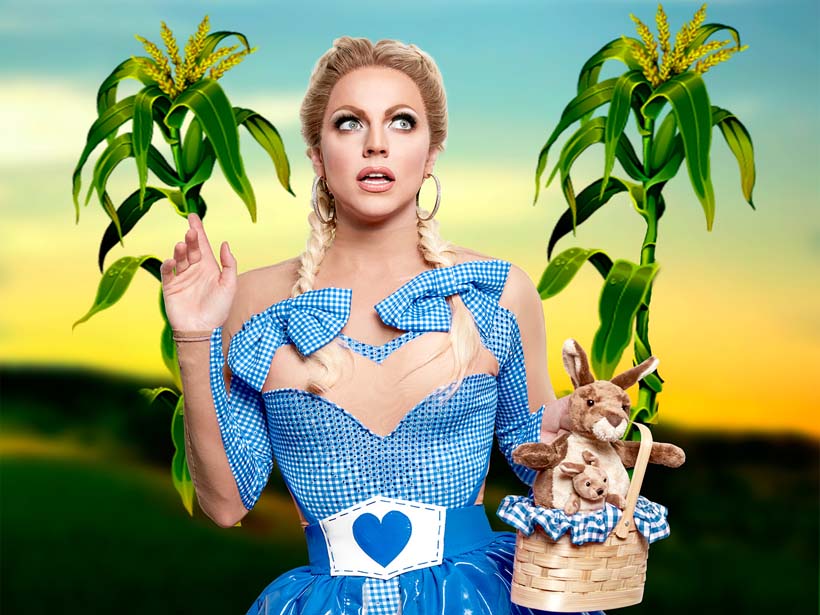 And just like Glinda, Oz's Good Witch of The South, her good deeds don't stop there. Using social media as a platform for championing sexual health and appearing as both Courtney and Shane, we're invited to witness a very personal journey into something many of us might relate to – going for sexual health tests after the possibility of an exposure to HIV.
In two enormously popular videos both personas share with us some incredibly human insights. Serving as a wonderful reminder of how the advancement of medical science provides even more options for preventing HIV, we gain a frank perspective into the kind of experiences that aren't always shared so openly.
Why I wasn't scared when I found out he was HIV positive: A World AIDS Day message
My HIV test results…
As Courtney proves, seeking out PEP within 72 hours of a possible exposure to HIV in countries such as the United States can be a straightforward experience. There are plenty of options for accessing PEP in an emergency across Australia too. The GetPEP.info website is a great online resource, and our introduction article explains what PEP is and how it can help you or a mate stay HIV negative after a possible exposure to HIV.
I'll get you, my pretty, and your little dog too!
Perhaps some of Courtney's best loved moments are to be remembered from RuPaul's Drag Race season six. Coming joint runner-up with Adore Delano is no mean feat, especially when the competition is New York City's powerhouse of drag, Bianca Del Rio.
Despite losing out on pole position, Courtney's humour, looks and performance are consistently on point, firmly securing a spot for Australian drag on an international stage dominated by US queens.
RuPaul's Drag Race | Best Of Courtney Act
The celebrity illumination of the Drag Race spotlight shines favourably on many of the talented performers to sashay through the doors. And Courtney Act shows both her and her makeup won't be melting under it. To mention a prominent few from her G-string of successes: she made herstory in July 2014 as the first drag performer to sing live with the San Francisco Symphony Orchestra; she appeared alongside other Drag Race queens Willam and Alaska in a sexy music video for fashion label American Apparel; and her beautifully produced romance and gender themed music videos for singles Kaleidoscope and Ugly have over 2.4 million YouTube views between them.
With the flourishing career she's made for herself, surely Courtney Act is the Australian drag idol who shows all of us that somewhere over the rainbow the dreams that you dare to dream really do come true.
Begone before somebody drops a house on you too!
If you'd like the chance to see Courtney live, you'd better act fast! The Girl from Oz is running from June 16 to 18 at the Magic Mirrors Spiegeltent, Adelaide – Information and tickets are available online.
You can also keep up to date with Courtney's antics via her Facebook page and website.