Hung-over and riding roller-coasters at California's Six Flags Discovery Kingdom
Ride the roller-coasters, they said. It'll be fun, they said. Seeking a velocity induced adrenaline high on a visit to San Francisco, four Aussies ignored a disconcerting message from a local and checked out Six Flags Discovery Kingdom anyway
Hung-over and stuck for what feels like an eternity on a broken down roller-coaster 30 metres in the sky, this tourist did not expect to shout "get me off this thing" to any man in California. With greater expectations than Australia's Warner Bros. Movie World (Hollywood on The Gold Coast), how did we end up at this downtrodden Disneyland?
No public transport without caffeine — ever
After a wild night in the land of free-poured spirits, our hung-over misadventure begins at the impressive San Francisco Ferry Building. What a joy to discover the bustling Farmer's Market in full swing. If we had more than nine minutes to spare before our departure, I'm sure we'd appreciate the fine artisan products, but coffee is our immediate priority. Poor attempts at lattes in hand, we dash from pier to pier seeking the ferry to Vallejo.
How much the ferry conductor loves his job becomes increasingly apparent as we're barked at to stand aside while indifferent regulars tap on travel cards to board. Eventually with archaic paper tickets in hand, we're away. The rolling of the boat refuses to let us forget last night's life choices over the next 60 minutes.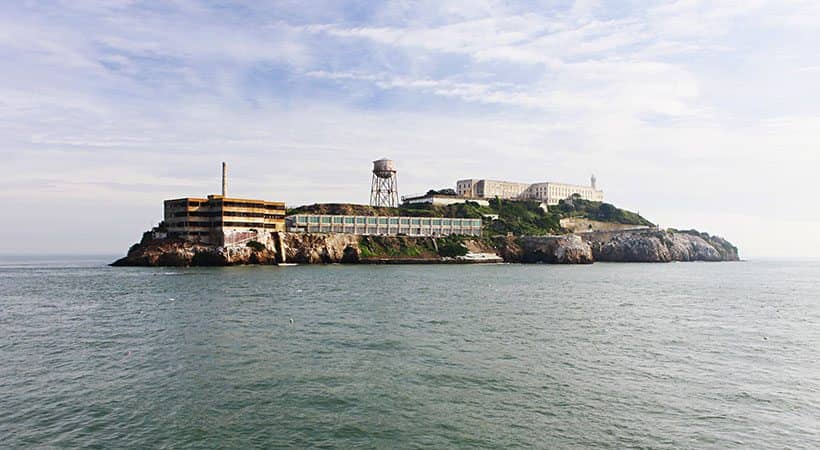 We can see Alcatraz Island and the dusky orange hues of the Golden Gate Bridge in the background. Beneath the queasy feeling, these iconic landmarks spur a surge of excitement. We're off to a theme park in the USA! From Vallejo Ferry Terminal it's another 15 minutes in an Uber to get to Six Flags Discovery Kingdom, giving us time to discuss why we didn't just hire a car.
On an off-peak season weekday, queuing 10 minutes for the Medusa thrill ride seems acceptable, and the pricey queue jump passes on offer seem pointless. A cryptic announcement indicates Medusa is having technical difficulties. Choosing not to wait we head to Kong, an adjacent thrill ride. After another short queue, we're strapped in and approaching the 30 metre high apex of Kong's starting climb, legs dangling and views for miles around anticipating the imminent drop.
We ignored a disconcerting message of "enjoy your sketchy theme park" from a local
10 minutes later, we're still waiting for it. The thrill of anticipation transitions into genuine anxiety about the reliability of this place. Climbing the maintenance stairs is an out of breath teenager – the kind who run theme parks everywhere. She pleasantly dismisses our calls for information and heads to the front to begin a spiel about how safe we are, repeating her story with the same rehearsed calming tone to each pod. We laugh to hide how nervous we're becoming.
A few more minutes and the 18 year old Kong ride grinds back into action. The pods reach the top of the climb and send us hurtling down the track for a bone juddering 125 seconds. The roller-coaster's ageing frame seemed too close to our dangling legs and we shakily step off wondering if we made the right decision to come.
Medusa appears to have re-opened, so we give her another chance. And this time she delivers. Two years younger than Kong and a mighty 70 seconds longer, her three minutes of twists and turns at more than 100km/h are genuinely exhilarating and a much smoother experience.
Wandering around the park there's a lot of noises blaring at us including typical Warner Bros. melodies on incessant repeat, and an unexpected live Christian rap group on an outdoor stage. The park also includes some worn-out animal attractions which fail to attract our interest . The queue for the Joker thrill ride seems to be the biggest joke about it, so having spent too much time not really accomplishing much we queue for the big one – Superman: Ultimate Flight.
The 45 minute queuing time is somewhat daunting, and the screams of people on it even more so. The track towers above us, claiming to be ranked alongside the tallest inversions in the world. We don't know what that means, but it looks like it's going to give us a good bang for our buck.
Arriving at the front of the line we witness the start of the ride from inside an area the queuing punters can't see. Our fate begins to dawn on us. From a standstill position we are to be launched forward by electromagnetic propulsion from zero to 100km/h in a few short seconds. But even that isn't enough momentum to reach the top loop 15 stories up. So then it's backwards with even more acceleration before the final sling shot forwards around the entire track!
I contemplate the ramifications of bailing on my mates and sitting this one out. Am I biting off more than I can chew? It's too late now. I know in the bad old days gays were called "inverts", but am I ready for this, tallest of all inversions? I'm climbing in to my seat and being secured in place. My anxiety levels rise as I anticipate what's about to happ…. AARRGGHH!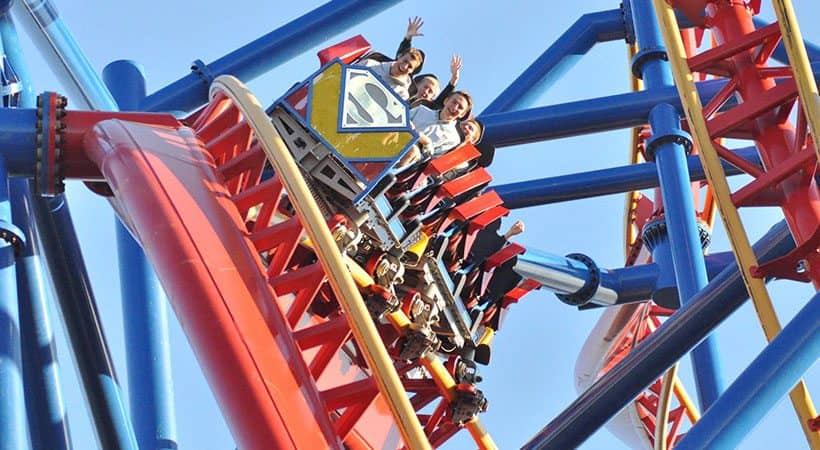 Retreating to a place somewhere deep within myself, I'm a passenger in my own body. It's strangely calming as the G force hits me twisting through the air high off the ground at unfathomable speed. My eyes are open, but it's more like watching a movie than experiencing reality. Then suddenly it's all over. Dead pan, wide eyed and slow breathing I step off the ride that was less of a thrill and more of an assault.
My friends are also shaken, but we're in good spirits. Perhaps that's because it's time for us to head back to San Francisco. Inspired by the city's attitude towards sexual health we discuss how it feels safer to ride their men than their roller-coasters. Catching the last ferry back, we're hypnotised by the random, rhythmic beauty of LEDs that light up the San Francisco–Oakland Bay Bridge. The Cisco company logo is now coming to life in front of us like a giant psychedelic marketing display.
Six Flags Discovery Kingdom has seen better days. With an emphasis on families and younger children, there's only a handful of thrills to amuse big kids in their 20s and 30s The caged animals and sea life shows seem as tired as the ageing rides.
The park is open all year round, but check its website for opening times. Would we go back there? Probably not, it's just too sketchy. But we will absolutely go back to San Francisco with the intent of checking out California's Great America theme park. Although not open all year round, it is suggested by friendly locals as a better experience.