Pornography in pencil: The homoerotic art of Tom of Finland
If a description such as "pneumatically muscled, meticulously rendered monster-donged icons of masculinity" comes to mind, then it's highly likely you've seen his artwork. Considered one of the most influential artists of the twentieth century, the iconic legacy of Touko Laaksonen, better known by his pseudonym Tom of Finland, still thrives today
In Finland, homosexuality wasn't decriminalised until 1971, but more than 30 years before then the son of two middle-class schoolteachers had already begun to risk prosecution and persecution to pursue his own passion; hand drawn erotic images of masculine labourers.Little did he know how much of an impact his masterful works in graphite would make on gay culture around the world.
Harvey S. Shipley Miller, Trustee of The Judith Rothschild Foundation considers Tom of Finland as one of the five most influential artists of the twentieth century: "As an artist he was, superb, as an influence he was transcendent."
At just 20 years of age, Touko Laaksonen was conscripted into the Finnish Army, serving as an anti-aircraft officer. His studies in advertising were halted and not resumed until 1945 while his country transitioned from military conflict with the Soviet Union to formal involvement in World War II. It was his encounters with both Finnish and German soldiers alike that are perhaps the most significant influence to his artistic style and fetishisation of men in uniforms.
"As an artist he was, superb, as an influence he was transcendent."
Counteracting the pathologised representations of homosexuals as weak, sick or deviant, Laaksonen chose to portray a potential ideal for gay men at the time. His subjects have heavily built, well-trimmed bodies. Often portrayed as smiling, and sometimes overly so, his figures are never frightening or threatening. The images are sexually-charged, wonderfully self-indulgent, passionate, sensual, and completely unapologetic.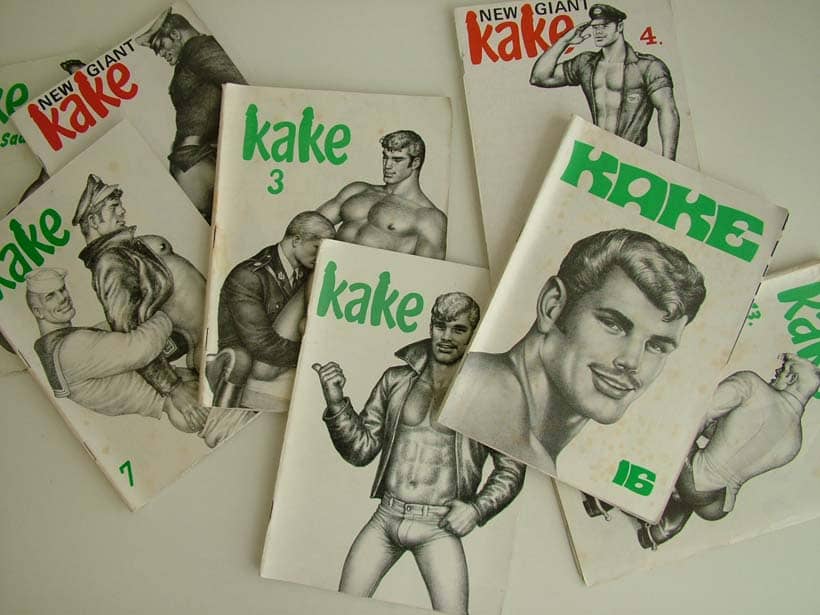 If you masturbate to it, is it still art?
After World War II, biker subculture had become increasingly popular. Marginalised and in direct opposition to a normalised, settled and conformist lifestyle, gay men had the opportunity to identify with something different and edgier. Leather and rough denim provided a stark self-empowered and rebellious contrast to the middle-classes; a direct challenge to the derogatory sissy stereotype that had been in the public eye until then.
"most influential creator of gay pornographic images"
Laaksonen revelled in the opportunity to utilise the changing trends in his artwork with bikers featuring prominently in various pieces over the years. In 1956, Laaksonen submitted his work to American publication Physique Pictorial under the simple pseudonym "Tom", soon to be known as "Tom of Finland" following the naming convention of the time. By the late 1960s, after the United States Supreme Court had ruled that nude male photographs were not inherently obscene, he was able to profit from the publication of even more overtly homoerotic works. By 1973, he was able to leave his career in advertising and continue publishing his drawings and even displaying them at mainstream art exhibitions.
"If I don't have an erection when I'm doing a drawing, I know it's no good." Touko Laaksonen, aka. Tom of Finland
The hyper exaggeration of muscular torsos, impossibly pert buttocks and biologically impractical appendages provide us with a glimpse into a fantasy world embedded firmly in reality, where Laaksonen seamlessly blends sexual allure into seemingly casual settings.
While some people may consider his portrayal of men as outdated and distasteful, the gentleness and sensitivity between his characters is sometimes easy to overlook. As if to challenge what the viewer perceives in scenes of rougher sex, the coquettish smile of the guy being restrained, or a reassuringly positioned hand around the back of the neck serve as delicate reminders of consensual man-to-man sexuality, sensuality and tenderness.
From sketches to cinema
Video biography Daddy and the Muscle Academy: The Life and Art of Tom of Finland was released by Zeitgeist Films in 1991. The review by Kurt von Behrmann on tomoffinlandfoundation.org mentions: "This informative fast paced and very erotic, biography captures little known facts about the Artist, as well as providing some intriguing insights into the man and his work." He goes on to add, "If you think that Tom of Finland only found beauty in Blonde Finnish types, Laaksonen makes it very clear that African-American men also captured his attention, and become the subjects of his work."
More recently award-winning Finnish director Dome Karukoski released his biopic simply titled Tom of Finland, which can be previewed (in Finnish) here.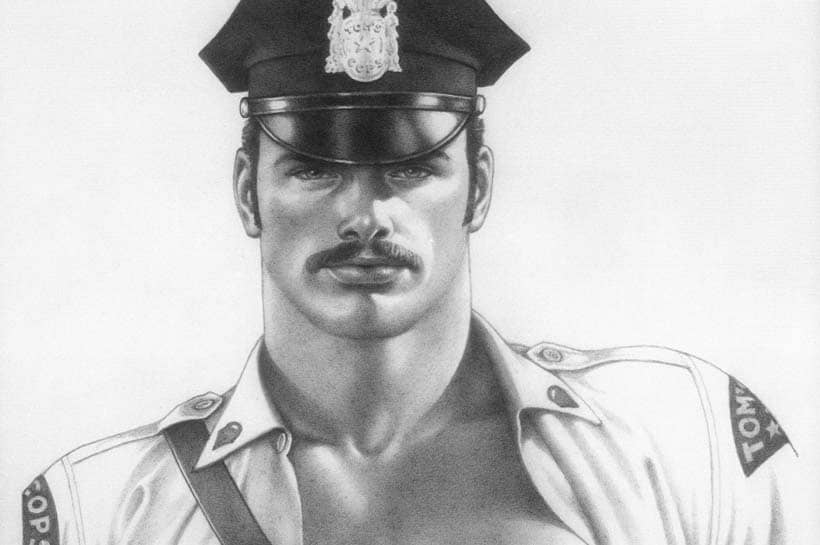 Laaksonen lived most of his life in a world prior to the HIV epidemic and before condom usage was popularised among men who have sex with men. Many of his art works feature the kind of condomless sex associated with a time unknown to Millennials and Gen Y born after the late 1970s. If he was still alive and creating his iconic works of art, perhaps contemporary safer sex practices such as the use of condoms, PrEP, or managing an undetectable viral load would have featured prominently.
Thank you Tom of Finland. Equipped with nothing more than paper and pencils, you dared to change the world.