GRUNT – a sexy celebration of trans men who are into other men
GRUNT is Australia's first sexual health campaign for gay, bi and queer trans men and was developed by the Peer Advocacy network for the Sexual Health of Trans Masculinities (PASH.tm) with support from the Australian Federation of AIDS Organisations (AFAO). It features super hot images of gay, bi and queer men (both trans and cis) and provides accurate, inclusive and sex positive sexual health information for trans men and their cis male sexual partners.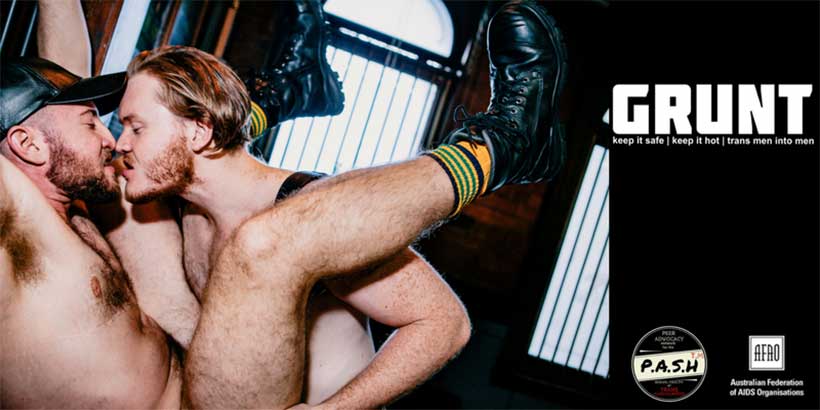 Image courtesy of the PASH.tm and AFAO GRUNT campaign
GRUNT focuses on the sex and play trans guys have with cis guys, because there is limited information in Australia about how they can look after sexual health as gay, bi and queer trans men. In addition to this, men who have sex with men are disproportionately affected by HIV in Australia, in fact most of the new reported diagnoses each year are among men who have sex with men living in capital cities. When compared to other LBQ/not-straight populations, gay men experience a greater prevalence of STIs as well. Trans guys have always been part of gay male communities so they need to know this stuff.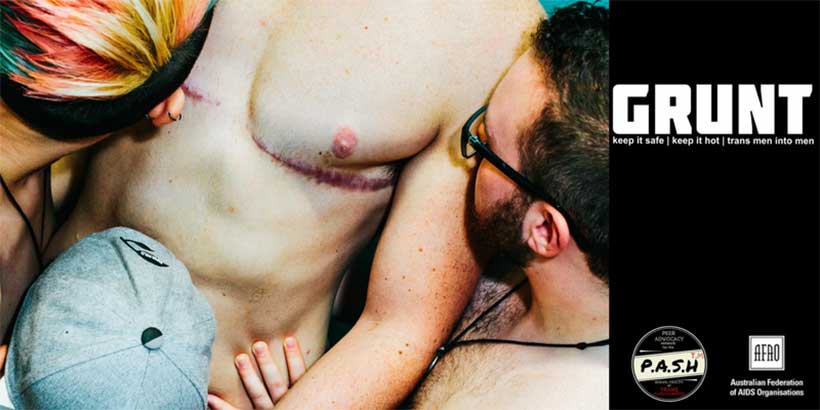 Image courtesy of the PASH.tm and AFAO GRUNT campaign
GRUNT educates its communities with sex positive, accurate and contemporary sexual health information and promotes tools on how to stay safe and have a great time with other guys. Trans men deserve access to quality sexual health information that is developed by them and for them. GRUNT features messages about condoms, PrEP, PEP, risk reduction, resilience and sexual health empowerment. GRUNT doesn't shy away from some of those awkward aspects of the trans hooking up experience such as disclosing trans status, copping rejection and transphobia, and navigating gender dysphoria.
Over the last few years, PASH.tm's team have been very busy boys indeed… since 2014 PASH.tm has written articles, been on the radio, on panels and in a heap of meetings. They've also facilitated workshops at major national HIV and STI conferences, presented to HIV and STI action groups and networks and released position papers on PrEP and on data collection. They're all volunteers too.
So, check out GRUNT and keep connected with PASH.tm on its Facebook page.