A Pride pilgrimage through the Northern Territory
How do they celebrate Pride in the Northern Territory?
This year I was lucky enough to find out, as I made a Pride pilgrimage from our tropical top to the dusty, desert centre, taking in the festivities in Darwin and Alice Springs. And I definitely recommend a similar journey for anyone in search of a new experience in 2018.
When people think of gay Pride in Australia, it's likely that the Sydney Gay and Lesbian Mardi Gras is the first thing that pops into their heads. And for good reason! Mardi Gras is by far the most famous pride event in Oz, and still attracts a raft of visitors from around the country and around the world, even heading into its 40th anniversary year.
Next to spring to mind might be Melbourne's Midsumma Festival, which does an amazing job annually of augmenting the sheer fabulousity of Australia's second largest city. Throw in incredible events like Adelaide Pride, Brisbane Pride, Pride Western Australia and Tropical Fruits and it's clear the country's most populace states have been bathed in a rainbow glow.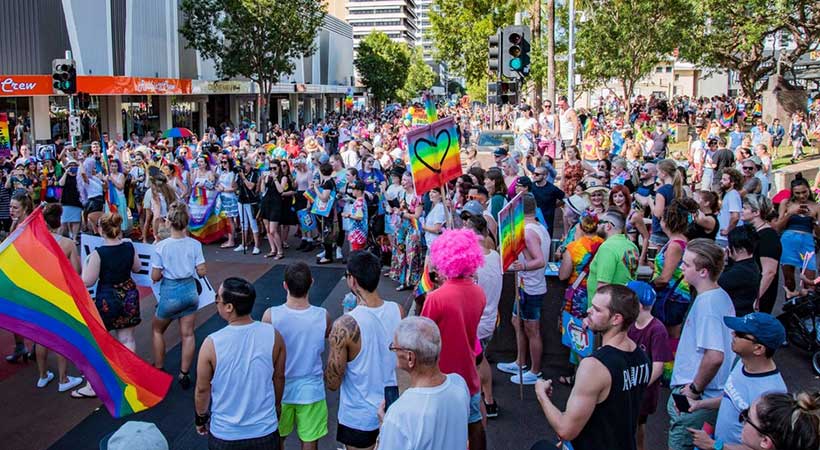 But what goes on in the sparsely populated Northern Territory? This year I was lucky enough to find out, as I made a Pride pilgrimage from our tropical top to the dusty, desert centre, taking in the festivities in Darwin and Alice Springs — and I definitely recommend a similar journey for anyone in search of a new experience in 2018!
Darwin Pride Festival
September 21 – October 1, 2017
The Darwin Pride Festival kicked off with the city's first Pride march in 10 years, and I was absolutely gobsmacked by the amount of people in attendance, with a crowd of at least 1500 taking to the streets. We met on the newly installed rainbow crossing on the corner of Smith and Knuckey Streets (which, incidentally, the council since voted to maintain as a permanent feature) before heading off on a trip that took us powering around a few corners, then up Darwin's notorious Mitchell Street.
Every city has a street like Mitchell Street. One where you're guaranteed to party hard and invest in a kebab. In my experience, there are spots on Mitchell Street in which you might not want to be loud and proud and kiss your boyfriend. But on this occasion, the locals certainly made as feel at home, hanging off the terraces of Shenanigans, Monsoons and Wisdom to cheer us on as our sweaty, sparkly gaggle powered through.
When we finally arrived at Civic Park, I had a newfound respect for drag queens. Darwin's drag queen game has always been strong, with local collective, Drag Territory, having put a myriad of new queens on the map over the last few years, including 2017 Drag Nation winner, Donna DuTchme. The further we marched, the more I marvelled at the fact that none had melted into a puddle of foundation, sequins and polyester in the extraordinary heat and humidity.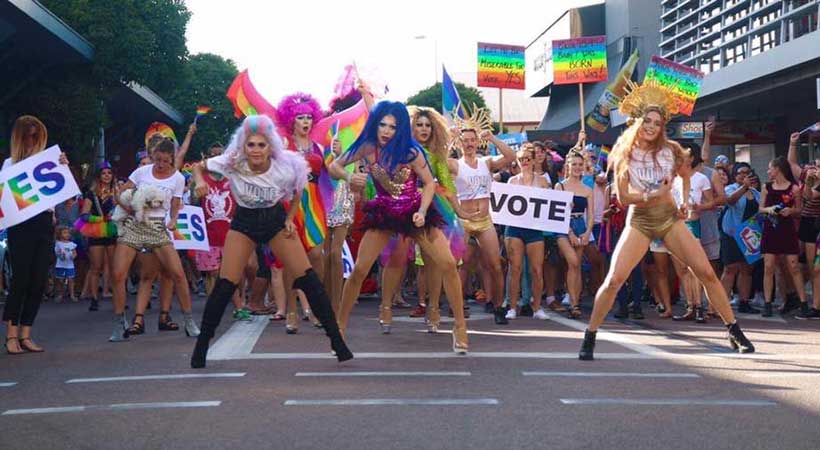 Pride in the tropics presents a unique set of meteorological challenges, but my temperature rose even further as I took in the Postal Vote pantomime put on by the boys from Darwin's sole gay bar, Throb. If every survey letter had been mailed by lithe men sporting barely-there budgie smugglers and gyrating to disco anthems, the whole experience might have been worth the $100 million.
Once at Civic Park, we settled in for an evening of family-friendly festivities hosted by yours truly and the incomparable Lisa Pellegrino, and featuring a raft of entertainment from Swing Dance NT; The Dukes ukulele band; The NT Thai Dancers; and local indie-groove pop band At The Dakota.
Then, once the sun had gone down and the bubbles had been flowing for a few hours, we strolled across to the Brown's Mart Theatre courtyard to while away the evening doing… well I don't quite remember to be honest. Probably each other?
Unfortunately, I wasn't lucky enough to take in the Darwin Pride Festival program in its entirety, as it ran for an impressive 11 days. But I'm told by attendees that program highlights included the sardonic and highly-sexualised comedic stylings of the Territory's own, Prince Pout; the inaugural Miss First Nation Pageant for Indigenous Drag Performers; and the LOVE exhibition of portraits by renowned local photographer, Therese Ritchie.
Alice Springs Pride Party 2017
18 November 2017
Despite being the baby brother of Northern Territory Pride events, the Alice Springs Pride Party 2017 definitely packed a punch! Held at the (seemingly) uber-masc Pioneer Football club, the event went off like a dusty, desert glitter bomb, painting the Red Centre a new shade of rainbow.
A one-night-only Pride event, the party served as a celebration for the incredible outcome of the Yes vote. A good 700-strong crowd gathered to dance the night away and be entertained by emcee Prince Pout, the famous Alice Sings Pop Choir, local drag queens Ruby Saltbush and Trephina Gorgeous, Hip Hop duo Karnage N Darknis and a stellar line-up of DJs variously hailing from the desert plains to the basements of Berlin.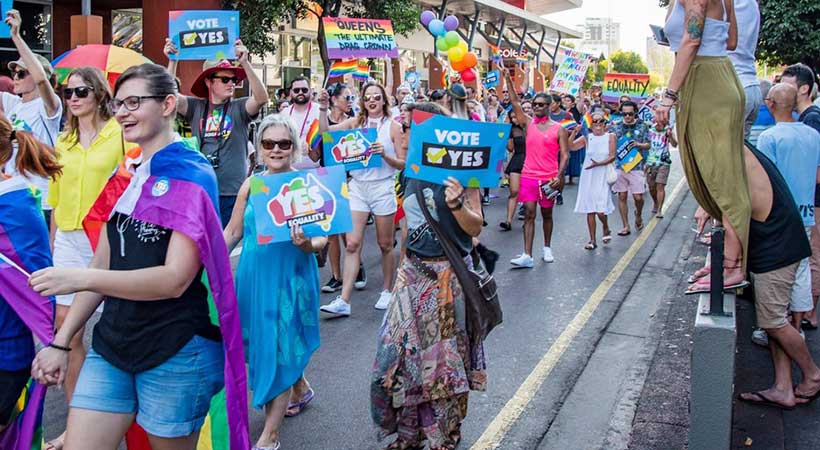 Organisers Lewis Young, Tom O'Connell, Saranjeet Thandi and Andrew Addie set the standard for 2018, with talk of this raucous rainbow making a resurgence in the years to come, and local businesses already putting their hands up to host the recovery.
The crowd at the Alice Springs Pride Party was electric, demonstrating the level of community solidarity surrounding Marriage Equality in the Northern Territory. In a town of only 25,000 people, it's safe to say a great proportion of those in attendance were LGBTQI friends, family and allies, celebrating in a sea of sequins and sparkles as the community came together to support a minority freshly bruised from the public debate.
Best of all? All profits from the event are being donated to Northern Territory LGBTQI organisation, Rainbow Territory, to help fund submissions advocating for LGBTQI Territorians in the upcoming review of their anti-discrimination legislation.
The energy in Alice Springs was incredible, and it was so surreal knowing that we were so far from the rest of Australia but celebrating in style nonetheless. So make sure you add the desert rainbow to your 2018 Pride calendar — it's not to be missed!