Six luxuriously decadent cocktail bars to perk up your time in Melbourne
Who doesn't love a good cocktail? If you happen to be in Melbourne, what better way to soak up the city than to marinate gently in the finest booze based concoctions money can buy? We even found three decent ones in other cities too – release your inner lush and indulge yourself… responsibly, of course.
Whether you feel like you're living in a hairdryer, or you've been locked inside an esky, Melbourne is well rehearsed at nurturing enticing indoor environments away from its climatic extremes. So it stands to reason that some of the city's most decadent cultural experiences occur within the confines of delightfully decorated interiors… oh, and with artfully mixed up booze to make staying indoors all the more palatable.
If you're from the city, or have lived there long enough, perhaps you're familiar with just how fastidious purveyors of mighty fine products tend to be — coffee isn't coffee unless it's brewed in scientific laboratory equipment by a man with a handlebar moustache. You say hipster, we say devotee. Either way, it's consistently good shit, even if you are paying five bucks for a grab and go on the way to top up your Myki.
When it comes to bartenders, mixologists, or whatever the preferred moniker for a curator of scrumptiously intoxicating beverages, there's an unrivalled level of perfectionism across the board. Let's face it… Melbourne's cocktail makers are nerds. And bless them for it! A dash of passion for presentation, a splash of consideration for creativity, and a flash of flair for flavour are key ingredients for serving up uncompromising quality in a glass… or a jam jar, a copper cup, an antique vase, maybe a shoe…
Here's a rundown of our fave establishments to visit, as well as three interstate bonus bars we reckon give Melbourne a run for its money.
9. The Everleigh
Despite being named after a turn of the 20th century brothel in Chicago, you don't get much classier than The Everleigh. You'll find it roosting seductively above Belle's Hot Chicken on Gertrude Street, just a stone's throw from the edge of Melbourne's CBD. And you know it's sophisticated when it's seating room only, your drinks are whisked away to the freezer while you go for a wee, and the crystal clear ice is custom made over three days using purified water in a state of the art filtration system. This is the pinnacle of a classic cocktail experience. Demurely dripping in well-deserved awards, you're in for a treat. Dress to impress. And impressed, you will be.
8. Eau De Vie
Down an alleyway, behind an unmarked door lies a hidden gem whose name means booze in French. Literally translating to "water of life", Eau De Vie is infamous for its flamboyant, and occasionally flammable cocktails served with theatrical finesse. Dry ice, drama and props are plentiful. Plus, if whisky's your thing, there's a special showcase with cheeses to match every Tuesday. Apparently Sydney has one too, though you're probably better off at the beach.
7. Bar Americano
So tiny, so cute and so classic… but no sitting, no cash and no espresso martinis! With a capacity for around only 10 patrons at a time, Bar Americano may be compact, but the drinks pack a remarkably good punch. In fact, it recently made it in to Phaidon's experts' guide to the best bars in the world, Where Bartenders Drink. If it's a little too cosy, fear not – its house Americano cocktail recipe might just be the finest ever created, and you can buy it bottled online to enjoy anywhere at your convenience.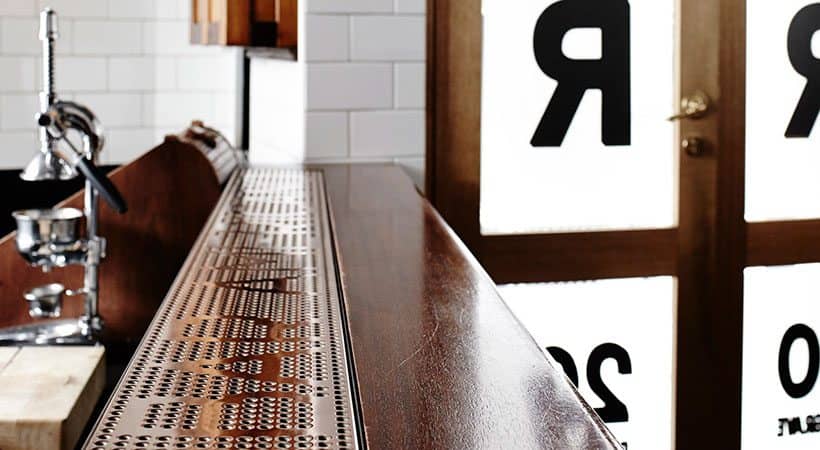 6. The Attic at Black Pearl Bar
Look, it's a bit fancy, and the doorbell entry system just reeks of hipster. But for all of the atmospheric quirks, The Attic at Black Pearl Bar, accessed via the narrow stairway at the back, is a true delight nestled away in Fitzroy. It's a secret bar inside another bar that won a place on The World's 50 Best Bars in 2016. Table service helps make the experience all the more relaxed, but if they're still serving the duck nachos, buy it and buckle up! Your night's about to escalate.
5. Naked For Satan
"Let's get naked for Satan" was secret code for Fitzroy locals during The Great Depression. Intense heat from Russian migrant Leon Satanovich's copper boilers in a disused warehouse warranted stripping down to your undies. If you were after cheap vodka, it was well worth getting your kit off and lending a hand to the secret distillery. Still decked out with copper pipes and vintage pornography today, Naked For Satan specialises in custom infused, flavoured vodkas. The pintxos (yummy little finger foods on a cocktail stick) are perfectly suited for when you've had a few. Don't miss the spectacular city vistas upstairs in the Naked in the Sky rooftop bar.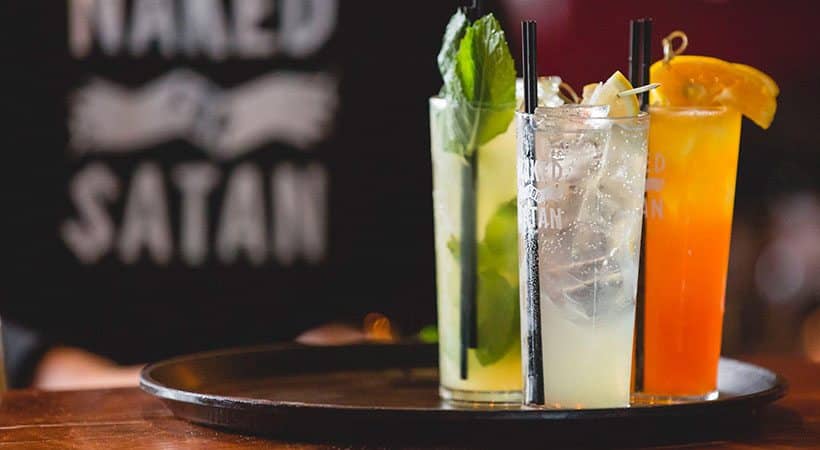 4. Double Happiness
Not only is Double Happiness the name of an innovative sexual health promotion campaign for PrEP and TasP (Treatment as Prevention), it's also the name of a well established bar on the edge of Melbourne's CBD. It's allegedly churned out 181,000 espresso martinis during its years of service. Hip-hop vibes and any cocktail with house-made lychee vodka make a perfect way to start or end the night.
---
For those occasional times Melbournians do choose to leave their beloved city, finding a coffee they won't bitch about is nigh on impossible. But take them to a decent bar and let them explain just how Melbourne it's trying to be, and they'll be as happy as Larry. This works especially well if you're trying to get them into bed… or maybe that's just us?
3. The Baxter Inn, Sydney
Earning a coveted spot on The World's 50 Best Bars list year after year is The Baxter Inn. Its modest website gives nothing away, but a Google image search will unveil some of its secrets. Welcoming and bustling with patrons almost every night of the week, you'll be spoiled for choice when selecting your poison. With bar staff as knowledgeable, friendly and hipster as this, it's almost as if it should really be in Melbourne!
2. Hula Bula Bar, Perth
Oh come on – everyone loves a tiki bar, right!? There's something unashamedly camp and fabulous about the retro, Pacific style decor at the Hula Bula Bar. It even manages to extend the kitsch to the completely unnecessary (yet oh so delightfully twee) cocktail garnishes and accoutrements. Rum, rum and more rum goes down a treat. Apparently they do beer as well, but we're not interested if it doesn't come adorned with a generous wedge of pineapple, a maraschino cherry and a plastic animal figure. However and wherever the night ends up, what happens in Perth stays in Perth!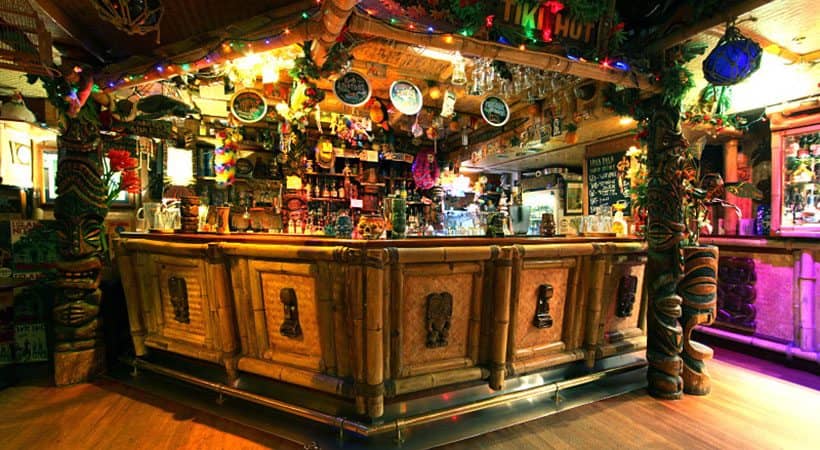 1. The Apo, Brisbane
Moody, minimalist and medicinal, this delightful bar is situated in a heritage listed medicine dispensary more than 150 years young. The Apo (because Apothecary is a lot of syllables to get your tongue around when you're pissed) oozes suave style and sophistication. With just a soupçon of quirk (because sometimes Melbournians visit Brisbane), their signature rhubarb and vanilla Negroni is a dream. If after three of those you're a bit peckish, the food is on the pricey side, but what they can't do with a brussels sprout salad is nobody's business – it's unfathomably delectable. Plus, once you're done, The Beat Megaclub is just over the road… Go on, you're in Brissy – we won't tell if you don't.