Flirting with food – seven meals guaranteed to get you laid
There's no better way to a man's heart than through his stomach. These tried and tested recipes are a sure-fire way to show off your culinary prowess and impress the hungriest of dinner guests. Don't forget to gorge yourself silly on dessert!
Whether you're feeding your favourite boy toy or cooking up a banquet for an orgy, keeping hydrated and well nourished are important factors for great sex. And what better way to a man's heart than through his stomach. Here are some tried and tested recipes from around the world for two, three or however many you can manage.
Oysters with Asian inspired dressing
Perhaps until now you never knew that zinc is a chemical element found in sperm and men lose between one and three milligrams of it per ejaculation! As a notorious aphrodisiac, oysters are known to be rich in zinc and according to an article in UK newspaper The Telegraph, research shows they also contain amino acids that trigger the production of sex hormones. What a great excuse to indulge and get a little frisky!
Preparation time: 15 minutes
Serves: four
12 oysters, shucked
1 garlic clove, minced
Thumb-sized piece ginger, finely chopped
2 tablespoons mirin (Japanese rice wine)
1 tablespoon soy sauce
4 spring onions (scallions), finely sliced
1 small red chilli, finely chopped
2 tablespoons sesame oil
Bunch chives, finely chopped
If not already prepared, shuck your oysters. Here's a video to show you how professional chef Sean Conolly does it.
For the dressing, mix all the ingredients except the chives together in a small bowl.
Drizzle the sauce over the shucked oysters.
Sprinkle delicately with some chopped chives and serve immediately.
The creamy, smooth textured rice in this traditional dish from Spain should be served a little al dente.
Preparation and cooking time: one hour
Serves: three
2 tablespoons olive oil
1 chicken breast fillet, diced
1 teaspoon crushed garlic
½ medium red onion, chopped
200g tinned, chopped tomatoes
½ small green capsicum, chopped
50g frozen baby peas
1 teaspoon paprika
225g Arborio risotto rice
A few saffron strands
450ml chicken stock
100g peeled prawns
Salt and pepper to taste
Squeeze of lemon juice
Lemon wedges to serve
Heat the oil in a paella pan or large saucepan, add the chicken and fry gently for about 10 minutes. Remove from the pan, cover and put to one side.
Add the onions and garlic to the pan and fry for three minutes. Add the tomatoes, capsicum, baby peas and paprika. Cook, stirring for five minutes.
Return the chicken to the pan; add the rice, saffron and stock. Bring to the boil stirring all the time.
Turn the heat right down and simmer uncovered without stirring for 20 minutes, or until most of the stock has been absorbed and the rice is tender.
Stir the prawns into the rice mixture and cook through for a further 5 minutes before seasoning with salt and pepper and a good squeeze of lemon juice.
Serve immediately with a lemon wedge to garnish.
Slow-cooked kangaroo lasagne
An Italian classic with an Aussie twist, slow-cooked to perfection. On the sloppy side, yet surprisingly delicious! And if you haven't yet discovered the joys of slow-cooked food, it's time to get on board. $50 and upwards will get you a decent slow-cooker.
Preparation and cooking time: up to six hours
Serves: six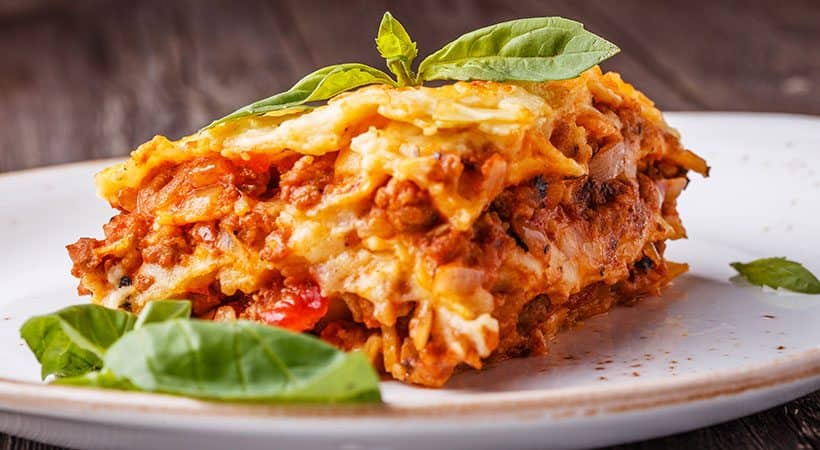 Ingredients
1 tablespoon olive oil
Knob of butter
1 teaspoon crushed garlic
1 large onion, diced
6 rashers short cut bacon, diced small
500g extra lean kangaroo mince (or beef mince if you're not down with eating one of our national emblems)
1 tablespoon Worcestershire sauce
½ medium capsicum, diced small
½ medium zucchini, diced small
½ medium carrot, diced small
1 heaped teaspoon oregano
1 heaped teaspoon thyme
Salt and pepper to taste
3 tablespoons tomato paste
690g jar tomato passata
1 tablespoon sugar
1 teaspoon wholegrain mustard
1 heaped teaspoon chopped parsley
350g low fat cottage cheese
300g cheddar cheese
2 large handfuls grated parmesan
50g light cream cheese
1 250g box lasagne sheets
Heat the oil and butter in a large saucepan, add the garlic and onions and cook until translucent.
Turn up the heat, add the bacon and cook for two minutes more. Add the mince and Worcestershire sauce, and then cook until browned.
Add the capsicum, zucchini, carrot, herbs and seasoning and cook for a few minutes more. Then add the tomato paste, passata and sugar.
Meanwhile, mix together the wholegrain mustard, parsley, cottage cheese, cheddar, parmesan and cream cheese in a bowl until well combined.
Spoon a layer of the meat mixture onto the bottom of the slow-cooker. Add a double layer of the uncooked lasagne sheets. Break sheets to fit into slow-cooker if necessary. Top with a portion of the cheese mixture. Repeat the layering of sauce, sheets and cheese until all the ingredients are used.
Finish with a layer of meat mixture and top with a thin layer of grated cheddar.
Cover and cook on low setting for between four and six hours.
Serve with a light, green leafy salad.
Balti butter chicken curry
Here's a sweet and saucy little number from India that can pack as much of a punch as you want it to. Perhaps choose wisely if it's just before a good romp session.
Tip: use latex gloves to chop the chilli… trust me, your hand job is hot enough without extra capsaicin (a skin irritant and active component of chillies that produces a burning sensation on contact).
Preparation and cooking time: 40 minutes
Serves: three
75ml thick Greek yoghurt
25g almond meal
¼ teaspoon chilli powder
¼ teaspoon crushed bay leaves
¼ teaspoon ground cloves
¼ teaspoon ground cinnamon
½ teaspoon garam masala
3 cardamom pods, seeds only
1 teaspoon crushed ginger
1 teaspoon crushed garlic
200g tinned, chopped tomatoes
½ teaspoon salt
500g chicken breast, diced
40g butter or ghee
1 tablespoon oil
1 medium onion, sliced
2 tablespoons chopped fresh coriander
2 tablespoons mango chutney
1 tablespoon tamarind paste
1 fresh green chilli, de-seeded and finely chopped
Combine the yoghurt, almond meal, dry spices, ginger, garlic, tomatoes and salt in a bowl and mix thoroughly.
Add the chicken chunks and stir well, then set aside.
Heat the butter and oil in a deep, round bottomed frying pan, or heavy wok. Add the onions and fry for about three minutes.
Add the chicken mixture and stir fry for about 10 minutes.
Stir in half of the coriander along with the mango chutney, tamarind paste and green chilli.
Serve with steamed basmati rice, naan bread or papadums.
Tip: This meal works really well with chunky diced eggplant, zucchini and roast pumpkin in place of chicken as a vegetarian option.
BBQ lamb cutlets with juicy watermelon, feta and black olive salad
Need to feed a group with something pink, juicy and with a hint of creamy saltiness? Whack some tender lamb cutlets on the BBQ or under the grill and serve them up with this Israeli inspired summer salad to get everyone's juices flowing.
Preparation and cooking time: 30 minutes
Serves: eight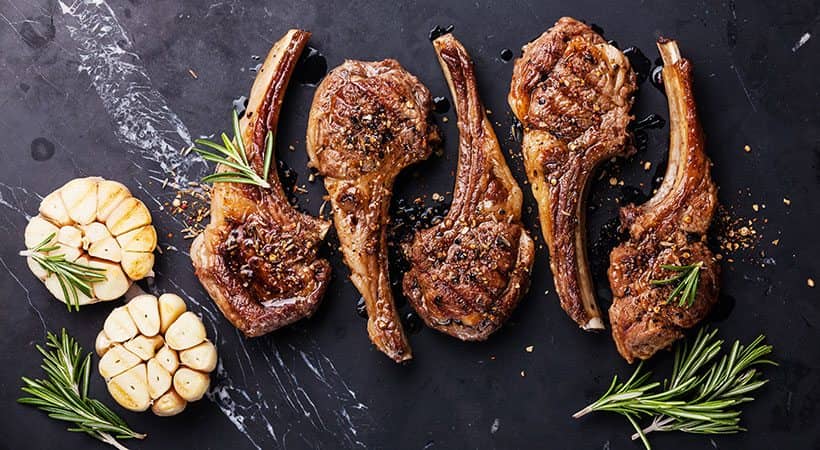 For the lamb cutlets:
1 teaspoon crushed garlic
1 teaspoon salt
Pinch of cayenne pepper
3 tablespoons extra virgin olive oil
24 lamb cutlets
For the Watermelon salad:
Juice of 4 limes
1 small red onion
Approximately 1½ kilograms ripe watermelon
300 grams Danish or Persian feta
1 bunch fresh mint, finely chopped
1 bunch fresh continental parsley
4 tablespoons extra virgin olive oil
200 grams pitted black olives
Black pepper to taste
Combine the garlic, salt and cayenne pepper together in a small bowl, then stir through the olive oil.
Rub the cutlets with the marinade, cover and set aside for 30 minutes allowing the flavours to infuse.
Meanwhile, halve and cut the red onion into fine slices then place in a small bowl with the lime juice to soak.
Remove and discard the pips and rind from the watermelon. Cut into bite sized chunks. Cut the feta into small pieces and place into a large bowl with the watermelon.
Finely chop the mint and roughly tear off the parsley leaves, adding both to the bowl.
Tip the lime juice soaked onions over the salad in the bowl, and then add the oil and olives. Using clean hands toss the salad very gently so that the pieces of feta and melon chunks don't break apart.
Add ground black pepper to taste.
Ensure the grill bars in the barbecue are clean and pre-heated to hot.
Place the cutlets on the grill and cook for around three to four minutes on each side.
Remove from grill and rest in a warm, covered place for five minutes before serving with the watermelon salad.
Tip: Grilled haloumi skewers make a quick and easy vegetarian substitute for lamb.
Slow-cooked sausage and mixed bean cassoulet
Cassoulet is a rich, slow-cooked casserole packed full of hearty flavours from the south of France. Give your guy a bit of pork on his fork and show him some home cooked love.
Preparation and cooking time: up to seven hours
Serves: three
6 large, good quality pork sausages
1 tablespoon olive oil
Knob of butter
½ teaspoon garlic
½ teaspoon ginger
1 large onion roughly chopped
2 tablespoons brown sugar
1 beef stock cube
½ teaspoon curry powder
½ teaspoon mustard powder
½ teaspoon oregano
½ teaspoon ground sage
½ teaspoon thyme
½ teaspoon marjoram
½ teaspoon paprika
1 heaped teaspoon mustard grains
Salt and pepper
2 tablespoons balsamic vinegar
1 medium capsicum chunky diced
400g tin chopped tomatoes
2 tablespoons tomato paste
2 tablespoons plain flour
200ml water
400g tin mixed beans
100g pitted black olives, sliced
Some slow-cookers include a high heat sauté function. If yours doesn't, use a frying pan or large saucepan on high heat to brown the sausages with a tiny amount of olive oil for a few minutes until golden all over. Remove from the pan and set to one side.
Add the remaining olive oil and butter then sauté the garlic, ginger and onions for a few minutes until translucent.
Add the brown sugar and cook for another two minutes before adding the stock cube, all the herbs, spices, salt, pepper and balsamic vinegar, then reduce for a few minutes more.
Add the capsicum, tomatoes, tomato paste, water and flour. Stir through. Finally, add the mixed beans and sliced olives.
Cut each sausage in half and place everything back in to the slow cooker.
Stir thoroughly, put the lid on and cook on the low heat setting for between six and seven hours.
Serve with a rustic style crisp crust baguette.
Chickpea cookie dough ball bites
OK, I know chickpeas might not be the first ingredient you'd consider for making cookies, but honestly, these are incredible! And you can even pretend they're somehow healthier than regular cookies.
Preparation and cooking time: 30 minutes
Makes: approximately 15 balls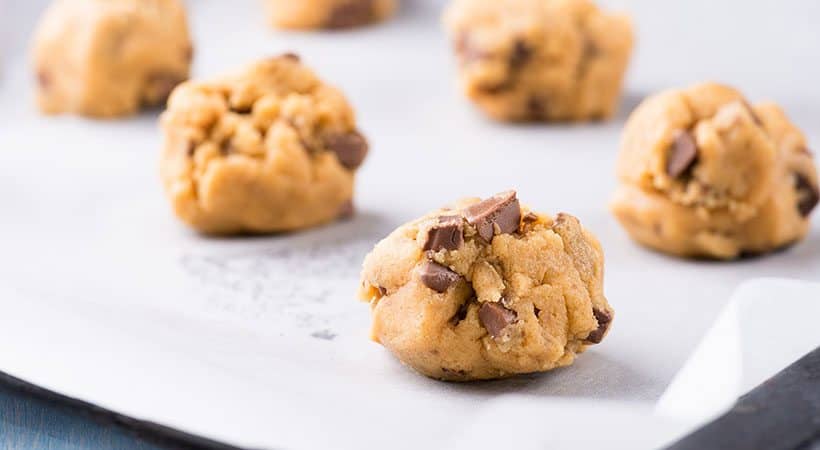 400g tin chick peas, well rinsed and patted dry
2 teaspoons vanilla extract
165g good quality crunchy peanut butter
80g natural honey
1 teaspoon baking powder
½ teaspoon all spice
Pinch of salt
90g chocolate chips
Preheat oven to 175°C. Combine all ingredients, except for the chocolate chips, in a food processor and blend until they become a thick paste.
Stir the chocolate chips in to the mixture or pulse in the food processor very briefly until combined. The mixture will be thick and sticky.
Using wet hands form the dough into 1½ inch balls then place onto a baking tray lined with a sheet of baking paper.
Bake in the oven for between 15 and 20 minutes. The dough balls will be quite soft when you take them out. They will not set like other cookies.
Store in an airtight container for up to one week. Though let's be honest; they'll be gobbled up way before then anyway.
Tip: Leave out the chocolate chips, or substitute with a dairy free variety to make these for any vegan friends. Note that some vegans choose to avoid honey, so make sure you check with your guests on their preferences first and substitute with maple syrup instead.
The most satisfying dessert ever
You might have finished dining, but the banquet's only just beginning. There's always room for a little more, so be sure to follow this recipe for maximising your pleasure and wellbeing all the way to the bedroom… or at the dining table! It's calorie free, so have as much as you want.
1 small pill for use as PrEP if you're HIV negative, or other HIV meds if you're living with HIV
Plenty of condoms (assorted styles and sizes)
Lashings of lube
Fisting gloves to taste
Mix an appropriate selection of the ingredients to form your favourite combination of options for HIV prevention and sexual safety practices.
Liberally apply lube wherever feels good and gently massage in. Reapply as often as required.
Crank up the heat and leave the dirty dishes for the morning.
Enjoy.
Tip: Indulgence is wonderful in the moment. However, in case of exposure to HIV, starting PEP within 72 hours can significantly reduce your chance of acquiring it even after the event. Side effects may include reduced anxiety and greater peace of mind.