Three quick and healthy snacks to keep you energised on a party weekend
Whether you meticulously planned an epic one or suddenly found yourself whisked away in a whirlwind of unexpected entertainment, it's important to look after your mind and body on a party weekend. No matter what you've been up to since clocking off work, here's some edible advice to help sustain your stamina and make sure you're ready for Monday morning.
In case you didn't know, alcohol reduces the amount of an anti-diuretic hormone your body makes which in turn increases the amount of urine you produce. If you've had a few bevvies of an evening and consequently pissed like a racehorse, this won't be news. Some of us know that downing water before and during a session will help minimise the effects of dehydration, even if we don't always practice what we preach. Curiously, your body only hangs on to about a third of the extra water you drink while the majority gets weed away anyway. Of course, you'll still be significantly better off than compared to not drinking any water at all.
Nothing comes with a money back guarantee to remedy how you're feeling after pulling a big one, but we've collected a few wholesome recipes loaded with ingredients thought to boost your body's overall performance.
Ultimately, consuming good food is better than not eating anything at all — even if the thought of digesting something might seem somewhat complicated at the end of the party. By the time your nose gets a whiff and your taste buds are engaged, you might be champing at the bit for a bite. Make good choices and remember to take any regular medication once you've got something in your stomach — especially if you use PrEP to protect against HIV, use HIV treatment to manage an undetectable viral load, or use any other daily prescription medication as part of your usual routine.
Turkey, cranberry, bacon and avocado club sandwich
An amino acid called tryptophan is used by your body to synthesise serotonin — a neurotransmitter, or chemical messenger, primarily found in the gastrointestinal tract, popularly thought to contribute towards feelings of well-being and happiness. Spinach and turkey are both sources of tryptophan, and avocados are thought to help increase dopamine — another neurotransmitter which plays a major role in reward-motivated behaviour.
For a vegetarian twist, replace the turkey and bacon with grilled haloumi and a sliced boiled egg — protein in eggs is also considered to boost levels of tryptophan in blood plasma, and who doesn't feel better after haloumi?
Preparation time: 15 minutes
Serves: one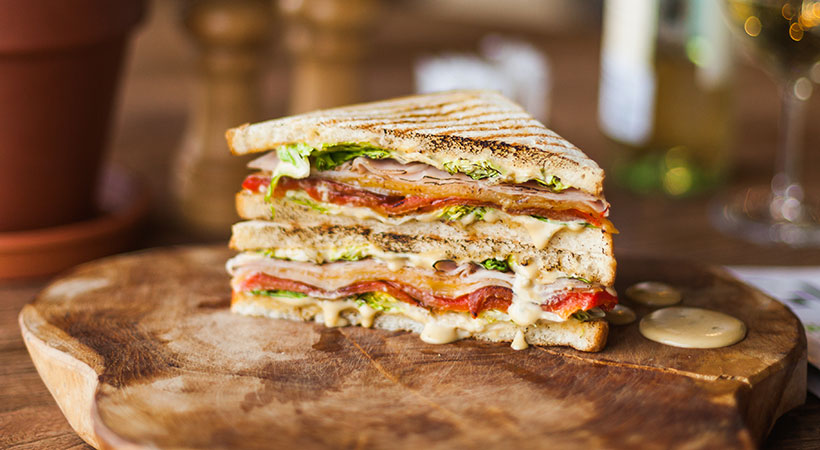 Ingredients
3 slices whole-grain seeded bread
2 thick slices roast turkey breast
2 rashers short cut bacon
1 tablespoon cranberry sauce
¼ ripe avocado, sliced
Dijon mustard
Handful of baby spinach leaves
Method
Fry or grill the bacon according to your preference.
Meanwhile, lay out two of the three slices of bread. Spread the first slice with cranberry sauce then layer the turkey slices on top.
Smear the second slice of bread with the Dijon mustard and add the sliced avocado. Lay the bacon rashers on top once cooked, and then add the baby spinach leaves.
Place the loaded second slice of bread on top of the first, and then rest the final slice of bread on top. Secure the sandwich stack with two toothpicks and cut in half to serve.
Boosted by soy milk and protein powder, bananas and chia seeds are considered to assist with dopamine production. A moderate amount of caffeine can also help with alertness, concentration and focus — at least temporarily. When solid food seems like something other people do, blended nutrients are still your friend.
Preparation time: 5 minutes
Serves: one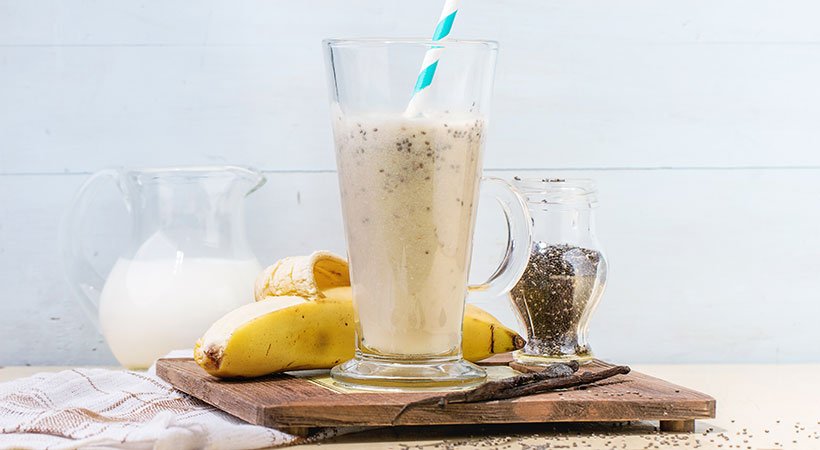 Ingredients
1 small banana peeled, chopped and frozen
1 tablespoon chia seeds
½ teaspoon ground cinnamon
¾ cup chilled soy milk
1 double shot of espresso
1 serving whey protein powder (optional)
Method
Add all the ingredients except the protein powder in a blender. Blend on high speed until smooth.
Finally, add the protein powder and pulse or lightly blend until mixed in.
Feta and smoked salmon scramble
Quick, easy and sure to keep you satisfied for a while, this one's perfect to wolf down in advance of a night out, or for a fulfilling feed when you make it back home. Salmon is considered rich in tryptophan as well as being a source of omega-3 fatty acids — important for nurturing your metabolism back to normality.
Preparation time: 20 minutes
Serves: one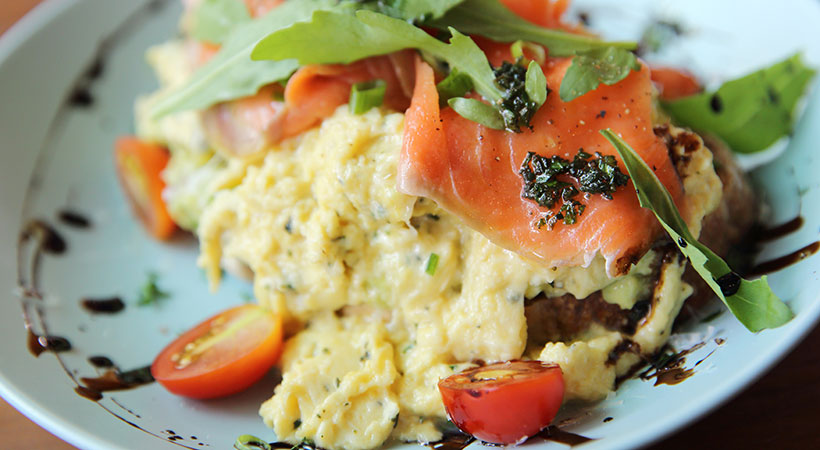 Ingredients
2 tablespoons coconut oil
90g cherry tomatoes, halved
4 spring onions, chopped
60g feta cut into small cubes
3 eggs, beaten
1 teaspoon snipped chives
100g smoked salmon, shredded
100g baby spinach leaves
A pinch of salt and pepper
Method
Gently heat the coconut oil over a low to medium heat. Lightly sauté the tomatoes and spring onions for three minutes or until soft.
Add the cubed feta to the pan and warm through for one minute, then add the chives, stir and pour over the beaten eggs.
Add salt and pepper to taste occasionally stirring to scramble the eggs until cooked. Add the smoked salmon to the pan stir through and remove from the heat.
Pile the baby spinach leaves on to a plate and top with the scrambled eggs.