Seven easy date ideas to spark a connection with him
Whether you've been together for years, dating a few months or just getting to know each other — if you've got a hot date coming up and need inspiration, here are some easy ideas to spark a connection while having fun.
1. A picnic can be anywhere
Sure, you could enjoy a picnic in the park. But you don't need to go outdoors to enjoy a great picnic. Why not surprise him with a romantic picnic in the lounge room. Grab some camembert and a blanket — you can always spice things up for a picnic at home with a dress code: underwear only.
2. Make it a #VirtualDate
We know meeting face-to-face can sometimes be a challenge, so why not try a virtual date!
For something adventurous to do together, have you tried a virtual escape room? They're fun, challenging and encourage you to work together without needing to leave the house. More than just a great way to test your logic, you can solve the puzzle together and try something out of the box (well only if you manage to escape!) Here's a list of some recommended virtual escape rooms to get you started.
Why not set up a Netflix viewing party and watch something together while staying apart. If you want to make it more of an event, how about dressing up… Watching a superhero movie? Fashion a makeshift superhero outfit! Watching a mystery? See who can guess who-dunnit first (no cheating!). When you can't be together in person, something as simple as co-ordinating the same snacks or drinks is an easy way to feel a little more connected.
Stuck for what to watch together? Check out these queer movies.
Eight gay films you can stream right now | Emen8
If you are going to have a virtual flirt or a steamy webcam session, make sure you both have consent to swap pics/videos before jumping on FaceTime — if it ends up being more like AssTime, head over to Sending nudes and filming dudes: a guide for law-abiding citizens before getting those angles ready!
3. As Olivia Newton-John said, let's get physical
Grab some water, hiking boots or a helmet and get out and about for a walk or a cycle. You could show each other your favourite places around your area or find new ones together — outdoor exercise is great for raising endorphins… and his heart rate.
Check out these ideas for some great walking trails near you to follow. Take turns to pick who chooses the trail — you never know what you might find!
4. Show off your inner Antoni
How about a cook-off — who's a MasterChef and who's a kitchen catastrophe? Prepare a meal together or divide the entrée and main between you. You'll soon discover his competitive streak… or yours!
Need some recipe inspiration? Check out Flirting with food – seven meals guaranteed to get you laid.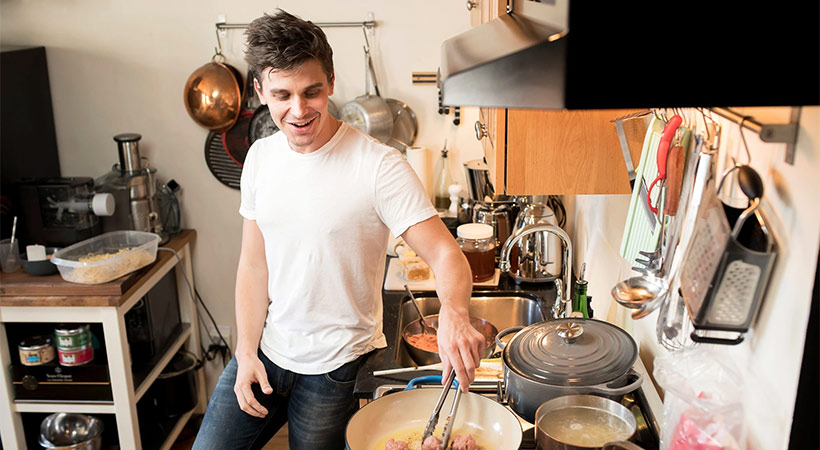 5. Boom boom boom boom, I want you in my room
For those who might be looking for a more cerebral experience, share your favourite tracks or a playlist to tell him who you are and what you like. After all, who doesn't like music?
You could always create a playlist to let the lyrics speak for you. Find some ideas to get suggestive with in Aural pleasure – sexy songs to signal to your partner how you really want it in bed.
6. A different kind of circuit party
Join each other for a home workout. Clothing can always be optional. Find inspiration for workout routines in Five of the best YouTube fitness channels for working out at home.
If you still have the energy for some post workout cardio, remember safety always comes first at the gym. Check out Using four great options to prevent HIV: a combination for success for our personal training guide on protecting you and your special guy.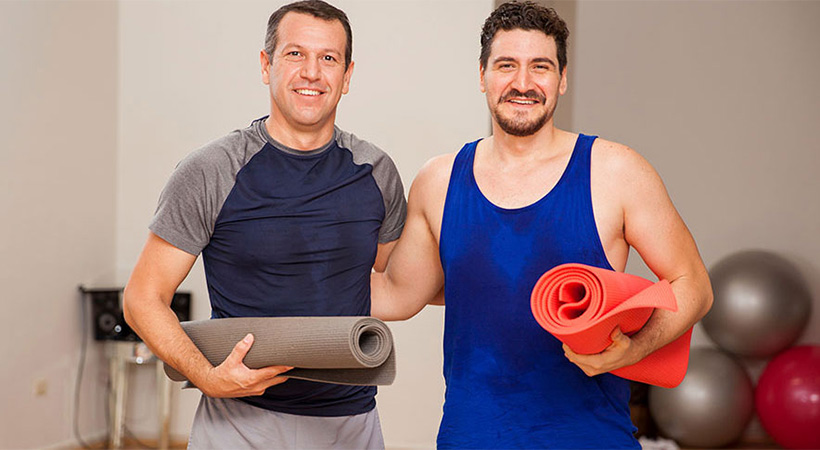 7. Get hands on
Already know each other pretty well? Why not get a little more creative for your next date night at home and try something a little more interesting?
Hit up your local craft store to grab some supplies to make some creative portraits. Take turns to pose (the sillier the better) and let him create an artwork of you. You don't have to be the next Tom of Finland. The goal here is to step out of your comfort zone and try something a bit different and fun. Use any materials you like — paint, canvas, textas or even just pencil and paper.
Why not dress up for your portrait? Put on your best Pride outfit… or nothing at all. Bonus points for the most artistic dick pic.