15 ways to appreciate Berlin without going to Berghain
From a hotel with its own marble Turkish hammam to Berlin's kinkiest gay sex club, we give you 15 left of centre things to do and see in Berlin
Whether you're a Berlin novice or seasoned regular, the key to making the most of Germany's dynamic capital is immersing yourself in its many left-of-centre activities and venues on offer. By all means, visit the more established tourist venues if you must, but be sure to dig a little deeper with a visit to one of these lesser-known destinations. A trip to Berlin should be anything but vanilla – this is Europe's sex capital and kink epicentre, so get friendly with the locals, go to pound town like there's no tomorrow and party like it's going out of fashion.
Word to the wise: Berlin's more hard-core gay sex scene sometimes jokingly refers to the city as Barelin – but where there's humour, there's also truth. So go prepared with condoms and/or PrEP.
Stay – Titanic Gendarmenmarkt
A little luxury goes a long way in Berlin, where at times the grungier streetscape can wear thin. If you're in need of some down time, which you no doubt will be after an extended bender at Berghain or Boiler, a hotel like Titanic in Gendarmenmarkt can be your little oasis of recovery. This five star hotel has an impressive spa facility including a steam room, sauna, state of the art gym, relaxation area and its very own marble Turkish hammam – FYI, a hammam is essentially a huge steam room, but with a more ambient temperature, as well as basins and hot water taps – the perfect place to splash about and sweat out anything over-indulged in the night before. And if you're in need of a hair of the dog the morning after, Champagne is in good supply at the breakfast buffet daily.
Location: Gendarmenmarkt, two blocks from Berlin's main boulevard Unter den Linden, meaning you're in the centre of things without risking swarms of Segue-riding tourists running you down the second you walk out the door.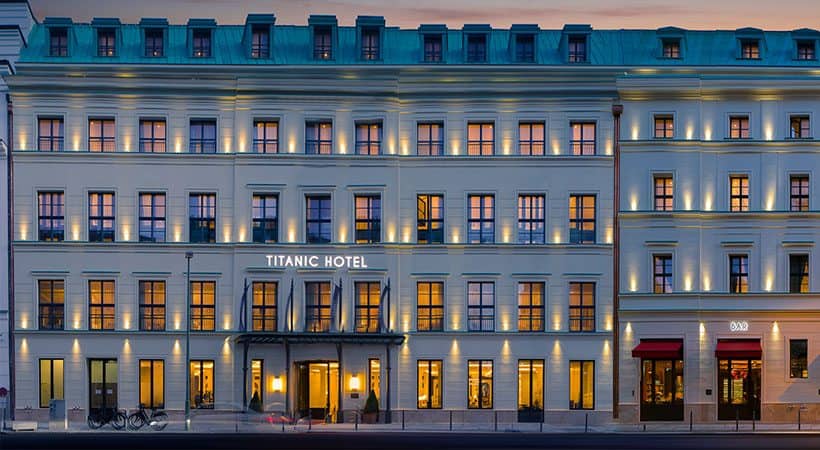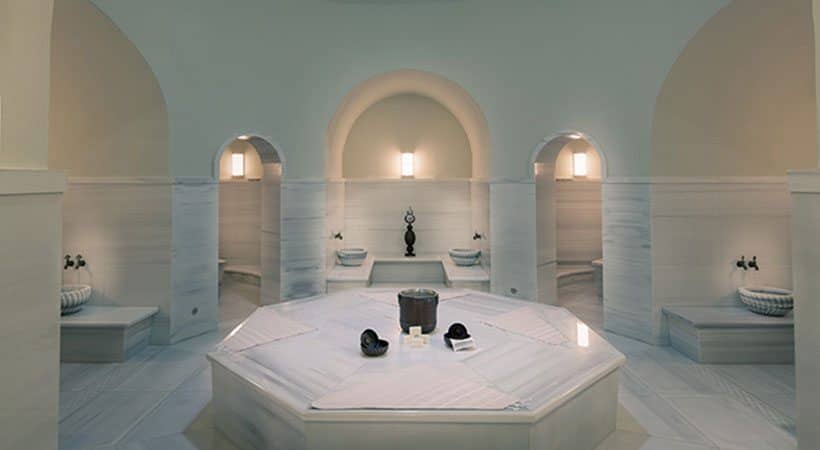 Stay – R&Co Apartments and SM Apartments
Schöneberg is one of Berlin's main gaybourhoods and kink heartlands, its famed Fuggerstrasse thoroughfare plays host to the Folsom Europe street fair each year and is also home to a plentiful array of kink and fetish shops, gay bars and nightclubs. It is here you will find five one-of-a-kind apartments available for short and long stays run by R&Co and SM Apartments. Each is equipped with a fully-stocked playroom featuring slings, cages, leather restraints and a generous selection of sex toys (as well as a generous supply of antibacterial disinfectant).
If you're looking to immerse yourself in everything the Berlin kink scene has to offer, one of these apartments is definitely for you. Given their spacious layouts and self-contained kitchens, they're also relatively great value compared to a Berlin hotel room, starting at approximately €100 a night*. R&Co also owns a kink and fetish shop under the same namesake next to its two apartments and offers guests 10% off during their stay, so if you're in the market for a new leather harness or some rubber gauntlets, win win!
*Per night rate for a seven night stay in R&Co's studio M
Location: On or within a stone's throw of Fuggerstrasse, in Berlin's kinky gaybourhood of Schöneberg.
Featuring the world's largest freestanding cylindrical aquarium in its foyer (approximately 25 metres tall) and an indoor pool, spa and gym facility, the Radisson Blu's aquatic features will set you straight after a big Berlin night out, in the same vain as Titanic's…
Location: On the western corner of Alexanderplatz in Mitte, and overlooking the Berliner Dom on Museum Island over the river Spree.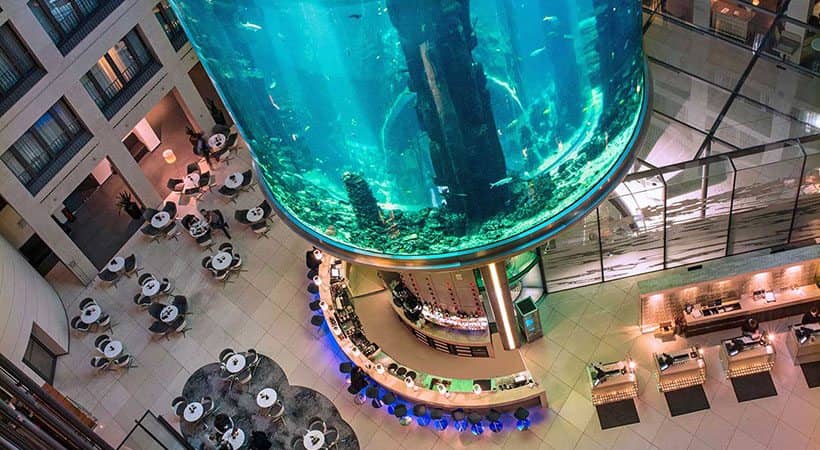 If you're keen to keep your accommodation costs down, consider staying at one of Berlin's modern and well-equipped hostels. Gay Hostel is (obviously, by virtue of its name) aimed at gay travellers and rates are as low as €19 per night for a bed in an eight-bedded room, or €45 for a room to yourself if you'd prefer some privacy. Located in the heart of Schöneberg, plenty of gay bars are close at hand – the building housing the hostel also contains Tom's Bar, as well as a sexual health clinic, should you need a check up while away (consultations are surprisingly affordable, even for foreigners, and almost all of the doctors and staff speak English). Be sure to make your reservation as early as possible as Gay Hostel often books up months in advance.
There is a huge range of great hostels on offer in Berlin, many with facilities and interiors surpassing mid-level hotels that you'd be paying three times over to be staying at. Check out the reliable user-rated reviews on Hostel World for more options in the German capital.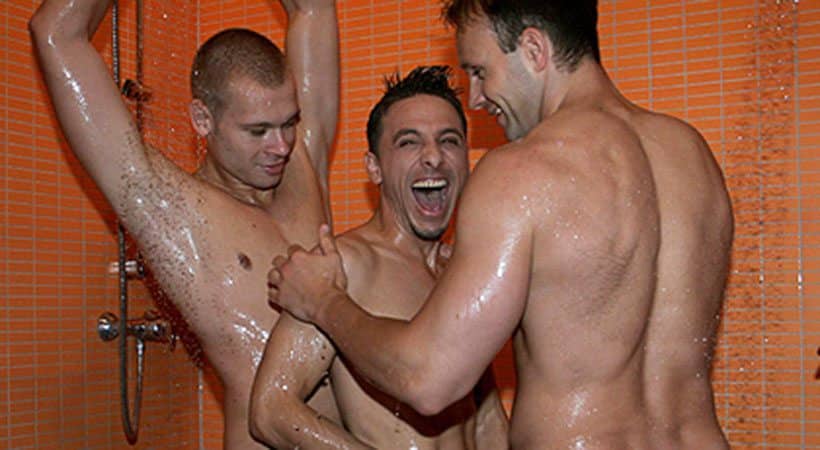 Do – Teufelsberg Listening Station Ruins
In the Grunewald forest on the western extremities of Berlin, lies Tuefelsberg – an 80 metre high man-made hill. After World War II, the Soviets refused to allow the Allies to dump rubble outside of West Berlin, so rather than fly it back to West Germany, up to 26 million cubic metres of debris was dumped here, covered in grass and beautified into the hill it is today. The United States soon realised this newly elevated terrain was an excellent position for a Cold War listening station, which was subsequently in operation until German reunification in 1990.
Today, a hauntingly derelict shell of the listening station, including its awesome radar domes, survives. Since its formal closure, the site has gradually become an artistic commune – which is conspicuously apparent in the kaleidoscopic graffiti art (and empty booze bottles) which cover almost every surface – and is fully accessible to visitors for approximately €7. The panoramic views of Berlin from the roof are breathtaking!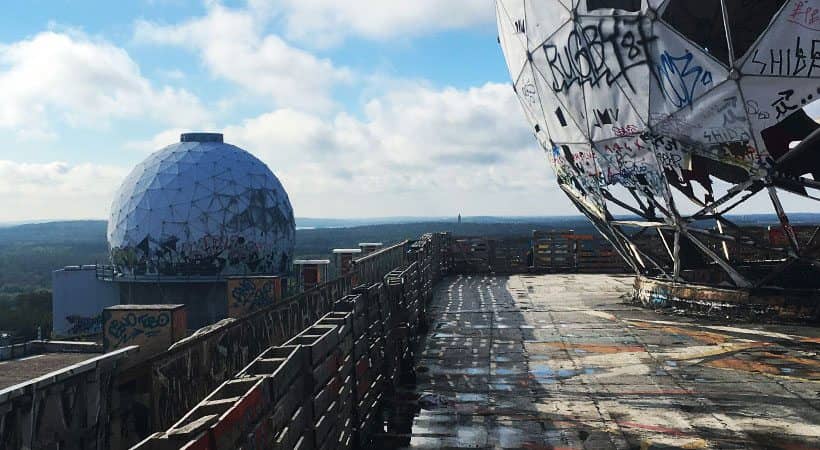 From September 6, Berlin hosts the week-long Folsom Europe festival. This is kink on steroids, with every fetish from rubber and leather to BDSM and sportswear catered to in a never ending stream of kink parties and events culminating in the all-day street fair on Fuggerstrasse and subsequent PiG Berlin. Unlike some of the parties where dress codes are strictly enforced, participants and onlookers alike are welcome at the street fair, so if you're new to the world of kink and simply want to see it from the sidelines, this is the best Folsom event for you.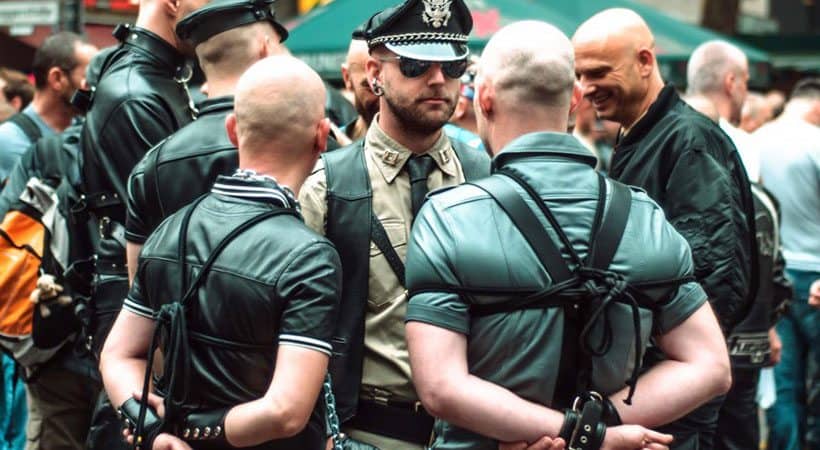 Housed in a former railway station, Hamburger Bahnhof is one of Europe's most acclaimed contemporary art museums. With a more intimate floorplan than the mega-museums of Paris or London, the permanent collection can be comfortably viewed over two or three hours and is a tantalising mix of installation art, filmic spaces and more traditional medium pieces from the likes of Andy Warhol, Joseph Beuys, Anselm Kiefer and Robert Rauschenberg.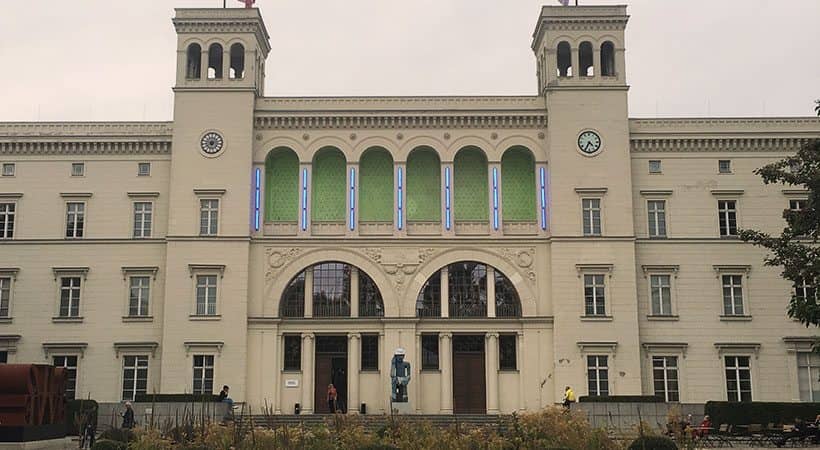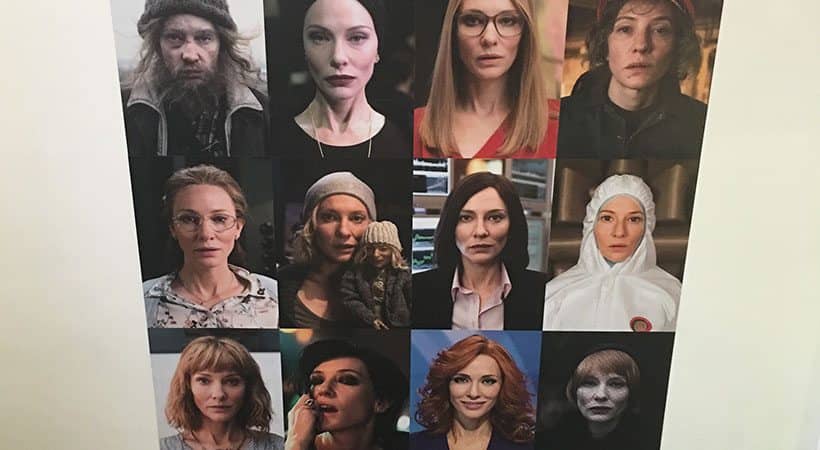 Berlin's fashion scene is both avant-garde and care-free – this is where people were doing the hipster thing before hipsters were a thing. Cutting edge threads are embraced wholeheartedly here, but in a more utilitarian and wearable, rather than pretentious, way. If this fashion philosophy speaks to you, you do need to know where to go, as Berlin's best stores are often in unassuming locations.
More intimate than a department store like KaDeWe, but more democratic than a single logo store like Acne Studios, Berlin has perfected the multi-brand concept store and where better to experience it than at Voo Store in Kreuzberg or Soto Store at Torstrasse. High-end fashion, mixed with on point street wear and sneakers is an arresting and credit card inducing combination. And around the corner from Soto is German eyewear manufacturer Mykita's cutting edge Berlin flagship.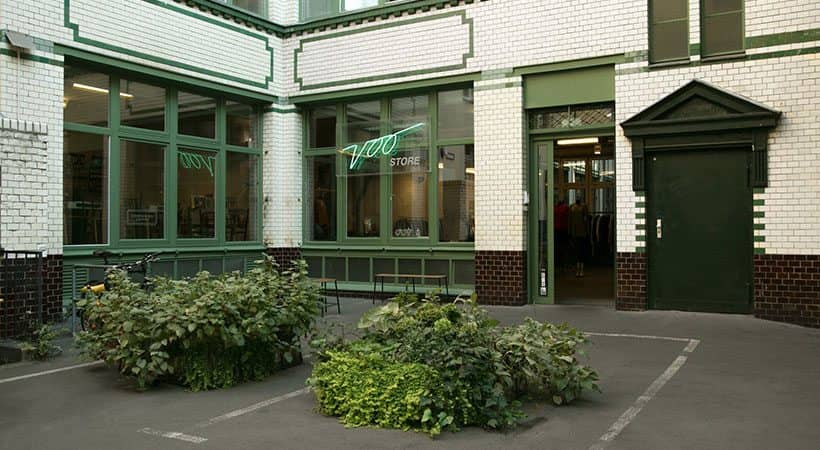 Shop – Black Style and Rub Addiction
As a hub for kink and sexual expression, it should come as no surprise Berlin is home to a treasure trove of high-quality fetish stores. Black Style and Rub Addiction serve the rubber community well producing a huge range of custom-fitted and handcrafted latex pieces. They also offer repair services should any of your rubber goods become worse for wear.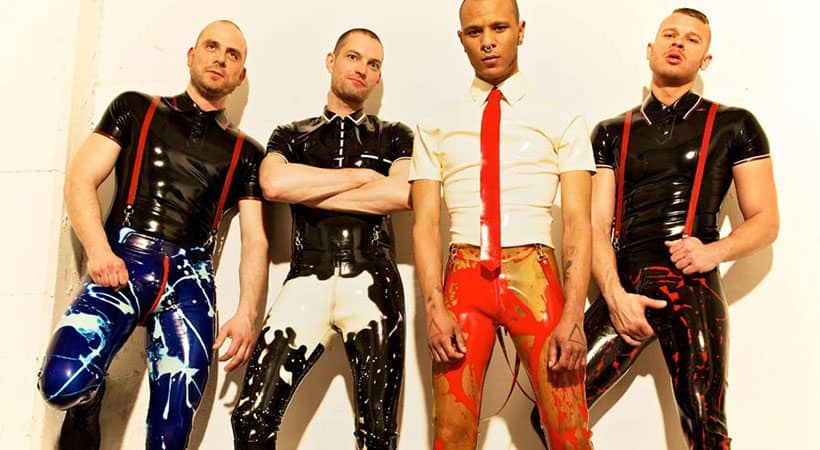 The only rule of entry to Kit Kat is you must be dressed in something kinky or "high glamour", once you've ticked that box though, a night at Kit Kat is a total free-for-all! A fuck-wherever-you-want and be-whoever-you-want mantra, combined with great electronic and pop music and the labyrinth of dance floors and more intimate spaces make for a great night that will leave you feeling like you've fallen down a rabbit hole. Although the club is totally gay-friendly, most nights tend to attract a bigger hetero crowd so check Kit Kat's website for the special gay nights.
The ultimate Berlin gay sex club makes Berghain upstairs look like playschool. Nothing is off limits here and every sex act under the sun and more are welcome to be performed in this underground pleasure palace. Lab is located in the basement of the same building housing Berghain, but except during certain special events, the two do not interconnect. The entrance is separate (turn left at the entrance to Berghain and follow the building around to the side). You throw all your regular clothes in a bag, cloak it and then get a bar tab number written on your arm, and the rest of the night is left for you to engage in every hedonistic desire your heart, or nether regions, crave.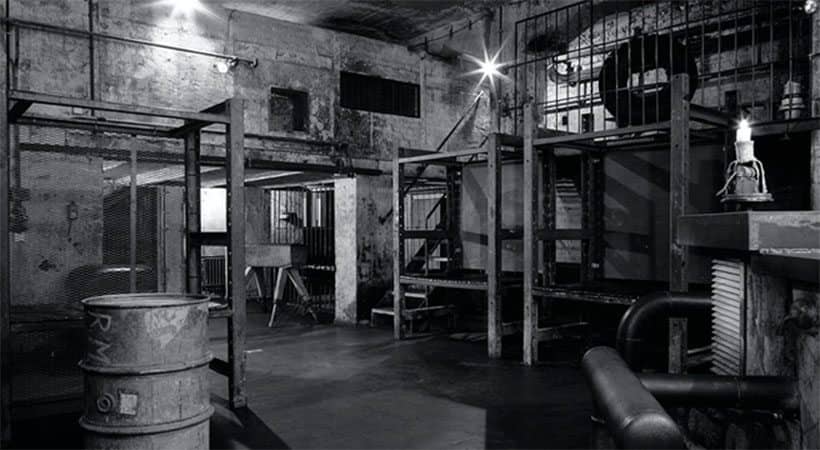 Enjoy everything this sexually liberated city has to offer, but always be sure to take condoms, lube, a few PrEP pills or HIV meds out with you, as you never know who you'll meet out and about and whether a few drinks will turn into an extended party.