Looking after your assets: everything you need to know about maintaining a happy, healthy ass
Anal sex. It's probably not a deeply explored topic in the standard birds-and-bees chat.
But just like the rest of your sexy bits, your anus offers a whole wonderful world to explore, and the mechanics are just the beginning. Bottoming can be one of the most intense, intimate, vulnerable and mind-blowing things you can do with another guy. Or it can be average, uncomfortable, embarrassing and very unsatisfying.
The difference can be as simple as arming yourself with the right information — and, as always, we've got your back(side). Read on for the hot take on maintaining a happy, healthy ass, and how to use it for the best sex of your life.
1. Get to know the basic anatomy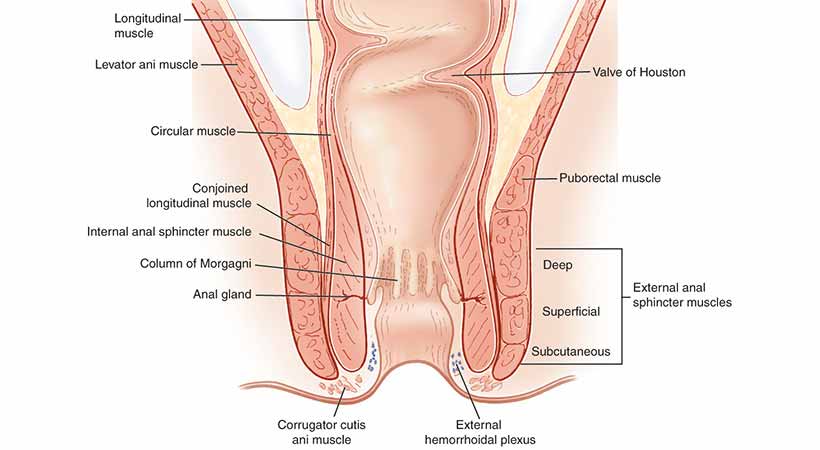 As you can see from our handy diagram, this area involves several special muscles and sphincters. It sits right behind your prostate and the rest of your sex anatomy, which is why it feels so good when your buddy is inside you. It's also lined internally with mucosa (a moist, protective membrane) and is very rich in blood vessels and nerves, including the ones that give you orgasms (yay!).
Fun fact: the only part you can consciously control is the external anal sphincter.
2. What's lube got to do with it?
It's pretty delicate tissue down there, but with the right preparation you can still be an accommodating host for tenacious guests. In most cases, the right lube will make getting fucked MUCH more comfortable and help reduce the risk of tearing anything. It can also open up a whole lot of options (e.g. toys, DP, toys-and-DP).
"Bottoming can be one of the most intense, intimate, vulnerable and mind-blowing things you can do with another guy."
Find a lube that works for you and use as much as you want; Brokeback Mountain be damned. When you're using condoms, either silicone or water-based lube will make them go in a lot smoother but be aware that water-based lube will dry up or be absorbed over time. Be ready to top up or your hot session will literally start to drag.
And it's worth being aware that using saliva may not always be the best option. A 2016 study conducted in Melbourne has found that using spit as lube may increase your risk of passing on gonorrhea from a throat infection.
3. Diet matters
We're talking about sex, but obviously this anatomy is part of the digestive system as well. Harrison Sarasola, ACON's Community Health Promotion Officer, confirms that what you eat is a crucial part of taking care of your ass, in and out of the bedroom.
"Diet is critical to your general health and wellbeing, anal and rectal health included," says Harrison. "Having a balanced diet with a good amount of fibre will equate to less straining on the toilet and more regular bowel movements. This can help reduce your chances of issues like haemorrhoids and anal fissures (tears in the lining of the anus)." Any sort of anal or rectal tearing can increase the likelihood of passing on an STI, so keeping your digestive system in balance can help reduce your risk.
There are some supplements you can take to help increase your fibre intake, if you struggle to get enough with your regular diet. Standard fibre supplements you can get in the supermarket will do the trick — no need to buy expensive brands.
4. What about douching?
Douching is probably the easiest and most common way of minimising mess during and after sex, if that's what you're after. There are a few different ways you can choose to douche, depending on what you find easiest/most comfortable, how much time you've got, and how heavy a session you're planning.
Some guys like to use those all-in-one douching kits from the chemist. There are also a bunch of syringe-style douches, shower attachments (take very special care to control temperature and pressure BEFORE you insert) and the single man's constant companion: the bulb.
"It's pretty delicate tissue down there, but with the right preparation you can still be an accommodating host for tenacious guests."
As far as solutions go, saline is great (again, it's available from the chemist), or you can use tap water as a backup. Treat your anus right. Lube up the nozzle and insert it slowly. Aim for a low, constant pressure and lukewarm (slightly cooler than your skin) temperature. If you're using a bulb, squeeze gently – you don't need to feel it on your tonsils. Expel the water and repeat if necessary.
Now wait. The water may not all come back out straight away, so try to give yourself about half an hour of private time, close to a bathroom. You don't want to unload your ballast on your way up the front stairs at your buddy's house, in broad daylight, wearing a jock and fawn chinos. Based on real events.
And a word to the frequent flusher: douching every day can dry out and irritate the mucosa inside your ass. If you notice discomfort, pain, or changes in your natural bowel movements, it may be time to give yourself a break or visit your doctor.
5. The red flag
There is a risk of small (not visible to the eye) tears with any penetrative sex, but if you're seeing a noticeable amount of blood, it might be time to change your technique. "It could mean that you have an anal fissure (small tear)," Harrison explains. "But it's always a good idea to see a doctor to confirm that the blood isn't caused by anything serious."
Any bleeding during sex carries an increased risk of passing on STIs. If you notice blood either while you're having sex, or on the toilet paper after douching or a bowel movement, give yourself some time to heal before you get back in the game. This is an especially good idea if you're into heavier play, rough sex, toys and/or fisting.
6. Work out what you do and don't like, and tell your partner(s) about it
As the old sayings go, knowledge is power and confidence is sexy. There's nothing better than someone who knows what they're doing and takes the time to bring you on the journey. Whether you like to warm up with a rim job or go straight from handshake to elbow-deep, figure out what works for your ass — and let your partner(s) know.
"A big part of looking after your ass is managing your STI and HIV risk."
It can be a lot of fun to try out some different toys/guys and get a fix on your favourite angles and positions. Do some feel more comfortable than others? Would you prefer to be in charge — at least until you feel comfortable? Is keeping eye contact a sexy way to let him know you're really enjoying yourself or are you worried your face will give too much away? All great conversation starters — and all great ways to ensure that he's taking care of your ass as well as you do.
7. Protect yourself and your partner
A big part of looking after your ass is managing your STI and HIV risk. Condoms, PrEP, and utilising an undetectable viral load as an HIV prevention strategy are all great ways to protect against HIV. Using condoms will also help protect you against a whole range of other STIs like syphilis, gonorrhea and chlamydia. And, as always, getting tested regularly and treated if necessary will help to keep you (and your ass) happy, healthy and ready for action.